History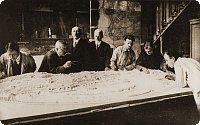 Professor Jiří Janda with architect Mašek above the plan of the ZOOThe idea to establish a zoological park in Prague was put forward by Count Sweerts-Spork in 1881 on the occasion of the wedding of Prince Rudolf of Austria and Princess Stephanie of Belgium.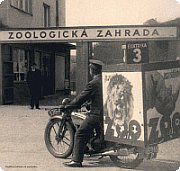 In 1919, a special committee was established at the meeting of the board for mathematics and natural sciences at the Ministry of Education and National Enlightenment. This was done to start the basic preparatory work for building the Prague Zoo.
On the 28th of September 1931 the zoo opened to the public. In the year 1938, the zoo was the proud owner of the first young Andean vulture in the world. It was hatched and reared at the zoo. In 1942, the zoo announced the birth of the first artificially-bred polar bear cub.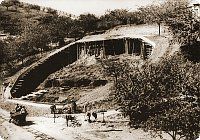 Construction of the wolf run In 2001, the first artificial breeding of the Przewalski Horse took place at Prague Zoo. The zoo has contributed significantly to saving the Przewalski Horse from extinction. It is also the biggest breeder of this horse species in the world. When the prominent zoologist Dr. Zdeněk Veselovský took over as zoo director in 1959, it was a major turning point in the zoo's history. Under his guidance Prague Zoo achieved immense success in the field of research and breeding.
A natural disaster struck in 2002 when Prague was hit by the worst floods in human memory. It led to death of dozens of animals. Although it was a major set-back the zoo set about repairing the damage and in many cases the animals got new and bigger enclosures as a result.
Photo: Zoo Prague Archive