How this serial came about…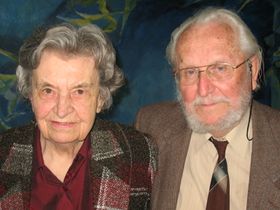 Jaroslava Skleničková with her husband, photo: David Vaughan This serialized reading from Jaroslava Skleničková's remarkable book, "If I had been a boy, I would have been shot…" came about thanks to the goodwill of a number of people:
First and foremost is Jaroslava herself, who decided to write the book over sixty years after the Lidice massacre, much encouraged and supported by her husband Mirek. The result is a unique and movingly written testimony. Not only does the book describe vividly and intimately the events of the war, but we also see Jaroslava's life before the Lidice tragedy, and she goes on to describe in moving detail how she managed to rebuild her life after coming home to find her home village destroyed. Jaroslava and Mirek recently celebrated their 60th wedding anniversary in the new Lidice, surrounded by their numerous friends and family.
Translation: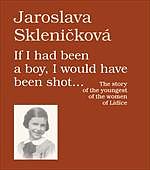 The English translation came about when my colleague from Czech Radio, Tomáš Černý, made a radio programme about the Czech version of Jaroslava's book. One of the things he mentioned in the programme was that there was no money available to put together and publish an English translation. Half jokingly, he asked if any listeners might be willing to translate the book for free. Lucy Doležalová and her daughter Tamara Volejníková came to hear about the programme, and Tamara had an idea. Her mother was one of the so-called "English war brides", an Englishwoman who had married a Czech fighting in the British armed forces during the war and had then settled in Czechoslovakia. Tamara was keen for her mother, by then in her 80s, to keep active, and the result was that between them they decided to translate the book.
"If I had been a boy, I would have been shot…" was published in English by VEGA-L in 2010. Sadly Lucy Doležalová died not long after the book was published. She would have been 90 next year.
Audio book: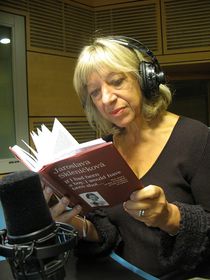 Veronika Hyks, photo: David Vaughan It was through Lucy Doležalová that the British Defence Attaché in Prague, Jamie Athill, came to hear about Jaroslava's book, and he decided to help promote it. When he approached me, I soon found out that an audio book of the original Czech version had recently been completed, so I suggested that we try doing the same with the English version.
The actress Veronika Hyks came to hear about the project through her daughter Natasha Dyer, who was in Prague in 2010 and had met Jamie Athill. Veronika herself is of Czech origin (we recently featured her in One on One), and she immediately offered to come over to Prague to record the entire book in the Radio Prague studios – without asking for anything in return. The result is this series and I hope that the CD version will also be ready soon.
David Vaughan
June 2011