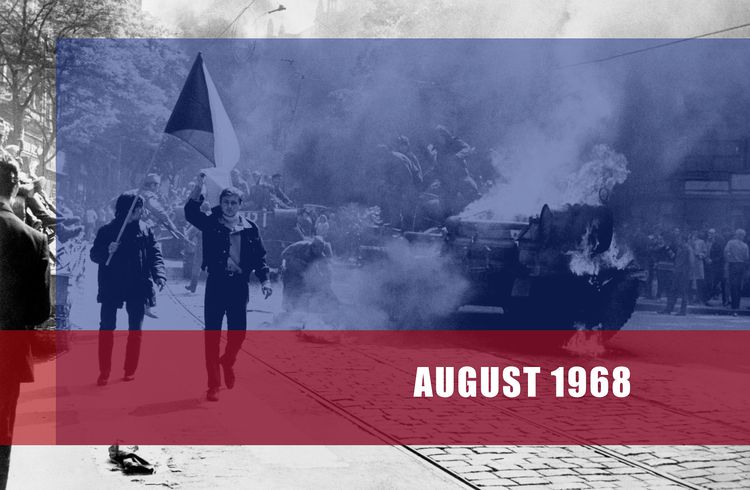 50 years since Warsaw pact troops invaded Czechoslovakia
August 21st of 1968 is a black day in Czech history. People still recall waking up on that fateful morning to find that Soviet-led Warsaw Pact tanks had rolled into the country crushing all hope of implementing the democratic reforms of the Prague Spring. Shocked citizens took to the streets in protest of the invasion. Over 100 people were killed and 500 injured in skirmishes with the invaders, many of whom had no clear idea of what they were doing here and even where exactly they were. One of the key battles was for the control of Czech Radio, similar to the one that took place at the end of the Second World War.
Fifteen Prague citizens and radio employees lost their lives in the clash with Soviet armed forces, who eventually seized the building. Although radio broadcasting continued from other locations, the public and media revolt was soon suppressed. In the following period, also known as the "normalisation", hundreds of employees were forced to leave the radio because of their political views, and thousands of people across the country were sacked for speaking their minds. Communist apparatchiks took over and those who did not flee the country were forced to toe the party line or live as outcasts harassed by the dreaded secret service. People closed up, trusting none but their closest family and friends. Some thought it would be a couple of years before things turned for the better, but the communist regime was to stay in power for another twenty years.
Moscow 1968 protester Pavel Litvinov: We didn't hope to achieve anything – we just felt we have to speak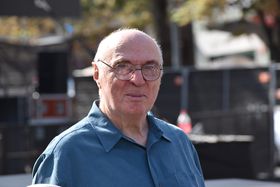 Pavel Litvinov, photo: Ondřej Tomšů On August 25, 1968 eight brave souls held a public protest on Moscow's Red Square against the Soviet-led invasion of Czechoslovakia. They all paid dearly for that act of fearlessness and defiance, receiving punishments including jail terms, internal exile and forced psychiatric treatment. The organiser of the demonstration was Pavel Litvinov, whose grandfather Maxim Litvinov had been Stalin's foreign minister in the 1930s. This week Mr. Litvinov, now resident in the US, was in Prague for events marking the 50th anniversary of the invasion. When we spoke, I first asked him what had led him to abandon his Communist elite background and become a dissident. More...
British author Nigel Peace publishes powerful love-story set against the backdrop of 1968 invasion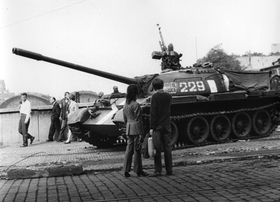 Photo: František Dostál, Wikimedia Commmons, CC BY-SA 4.0 British author Nigel Peace has just published a powerful love story set against the background of the 1968 invasion of Czechoslovakia by the Warsaw Pact. The novel is based on the author's own personal experience of being torn apart from his first love by the communist regime. I spoke to Nigel Peace shortly before his new book came out, about his memories of the time and what made him write his soul-searching novel half a century later. More...
'Occupation 1968' documents invasion, aftermath from soldiers' viewpoint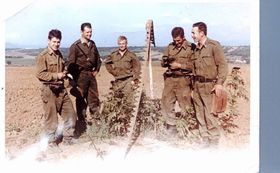 Photo: Hypermarket Film The omnibus documentary film 'Occupation 1968' offers a rare glimpse into the invasion of Czechoslovakia from the perspective of common Warsaw Pact soldiers, as well as high-ranking Soviet officers, who took part in the military campaign that crushed the Prague Spring reform movement 50 years ago. More...
Jan Palach's act was in part directed at future generations, says director of new film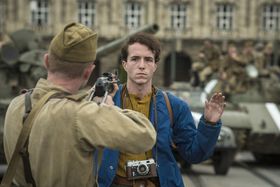 'Palach', photo: CinemArt Among many events held in connection with the 50th anniversary of the invasion of Czechoslovakia was the premiere of a new film about Jan Palach. The student famously took his own life in a bid to rouse the nation from apathy, five months into the Soviet occupation. More...
A Prayer for Marta crowns huge concert marking invasion anniversary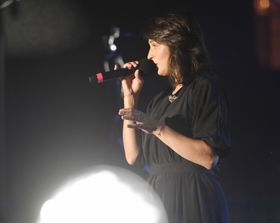 Jana Kirschner, photo: ČTK / Michal Krumphanzl The biggest public event marking the 50th anniversary of the invasion of Czechoslovakia was a concert that filled Prague's Wenceslas Square on Tuesday evening. The culmination of the free show came with Marta Kubišová's rendition of A Prayer for Marta, a song that came to symbolise the 1968 invasion. More...
Czech Radio 1968 memorial partly overshadowed by anti-Babiš protest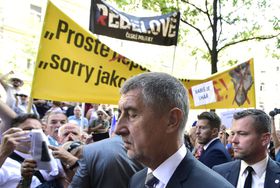 Andrej Babiš, photo: ČTK / Roman Vondrouš One of the key events marking Tuesday's anniversary of the Soviet-led invasion was a memorial at Czech Radio, scene of the worst violence on August 21, 1968. However, the ceremony was partly overshadowed by a raucous demonstration against Prime Minister Andrej Babiš. More...
Former CTK journalist recalls fateful day of Warsaw Pact invasion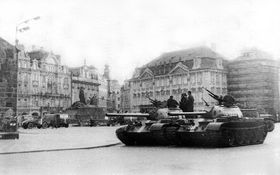 Photo: ALDOR46, Wikimedia Commons, CC BY-SA 3.0 Johnny Krcmar was a journalist working for the ctk news agency at the time of the Soviet-led invasion of Czechoslovakia. Like millions of others he was woken up in the early hours of August 21st to learn that his country had been invaded by the armies of the Warsaw Pact. He was later forced to emigrate within the secret police operation Asanace. Fifty years after the tragic event Mr. Krcmar visited Radio Prague's studio to share his memories of that fateful day. More...
Czech Radio recreates dramatic night of invasion with 13-hour broadcast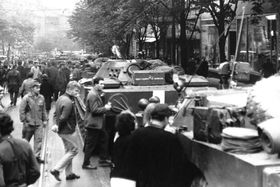 Foto: APF ČRo Czechoslovak Radio was a focal point of the Soviet-led invasion of 1968, with the streets around the station seeing the worst violence and the highest number of deaths. Today's Czech Radio is marking those momentous events with a special 13-hour broadcast featuring both archival materials and new interviews with eye-witnesses. More...
Virtual reality to simulate first-hand experience of invasion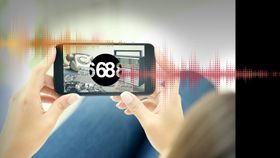 To mark the anniversary of the Soviet-led invasion of Czechoslovakia of 1968, Czech Radio's Creative Hub Group, in cooperation with Brainz digital agency, has prepared a special virtual reality studio. Visitors to the Czech Radio building can get a first-hand experience of what it feels like to stand in streets that are being invaded by Soviet tanks. I asked Edita Kudláčová, head of the Creative Hub Group, to tell me more about the project. More...
In the turbulent year of 1968, Radio Prague was "freer" than Radio Free Europe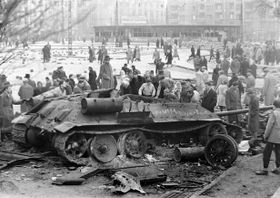 Hungarian Revolution in 1956, photo: ismeretlen, CC BY-SA 3.0 In the early years of Radio Free Europe, the U.S. station – although initially founded and largely secretly funded by the CIA – played a critical role in providing balanced, objective news to listeners in the Eastern Bloc, especially during turbulent periods of history. Having failed to live up its own standards when covering the Hungarian Revolution in 1956, RFE took a radically different approach to its coverage of the Prague Spring and Warsaw Pact invasion of Czechoslovakia in 1968, says former RFE director A. Ross Johnson. More...
Young Russians in Prague find that 1968 Russian-led invasion casts long shadow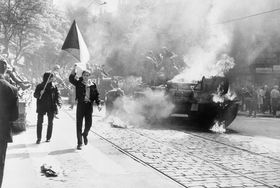 Russian-led invasion of Czechoslovakia in 1968, photo: CIA, Flickr, Public Domain The number of Russians residing and working in the Czech Republic has been steadily growing in recent years. Many come here in search of a better life, to escape the authoritarian regime of Vladimir Putin or homophobia in their homeland. And many find that the Russian led-invasion of Czechoslovakia casts a long shadow. More...
Prague exhibition brings August 1968 invasion to life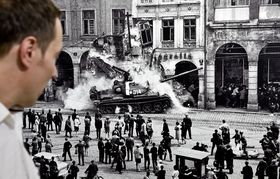 Photograph by Václav Toužimský, photo: ČTK/Vít Šimánek With the 50th anniversary of the Soviet-led invasion of Czechoslovakia fast approaching, an exhibition just launched at Prague's Old Town Hall brings together almost 200 photographs documenting that time. Most belong in private archives and a number are being shown in public for the first time ever. More...
Ivan Hartl: A one-man international branch of the Czech underground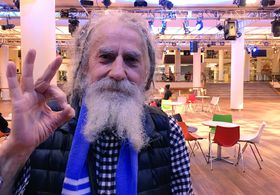 Ivan Hartl, photo: Ian Willoughby Ivan Hartl has been living in the UK since the late 1960s. From there he helped run banned literature into his native Czechoslovakia with Palach Press, as well as promoting internationally the persecuted rock band The Plastic People of the Universe. More...
Ladislav Hornan: Locked up on spying charges in 1980s Prague as a UK citizen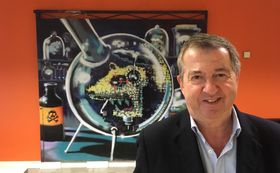 Ladislav Hornan, photo: Ian Willoughby Ladislav Hornan, who is chairman of the British Czech and Slovak Association, has enjoyed a very successful career and led one of the UK's top accountancy firms for many years. He came from a relatively privileged background in Prague, where his mother Magdalena Horňanová was a music professor and writer. Unusually, Mr. Hornan returned regularly to Czechoslovakia after emigrating in 1968. Until, that is, he spent almost a month in a Prague jail on spying charges in the mid-1980s. In a meeting room at his company's City of London building he shared that remarkable story. But first we discussed August 1968 when, as an 18-year-old, he was in England on a summer study stay. More...
Fifty years since Alexander Dubček took over at top of Czechoslovak communist party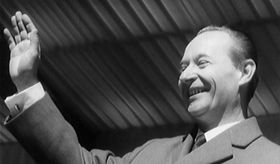 Alexander Dubček, photo: Czech Television Fifty years ago on January 5, 1968, the news came out of the ongoing central committee party meeting of the Czechoslovak communist party that Slovak, Alexander Dubček, had been chosen as the new party boss. Dubček was little known in Czech circles but his name would soon be known around the country and the world. More...
Movement and dance theatre tells powerful story of Soviet dissidents who stood up for Czechoslovakia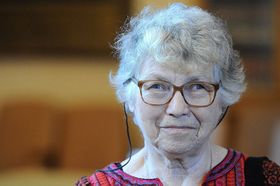 Natalia Gorbanevskaya, photo: Filip Jandourek On August 25th, 1968, just four days after Russian tanks rolled through Czechoslovakia to crush the Prague Spring reform movement, eight brave Russians staged a daring protest on Moscow's Red Square, unfurling banners that read "Hands off Czechoslovakia!" and "Shame to the Invaders!". They were quickly surrounded by communist police, beaten up and arrested. Most of them spent years locked up in prison, labour camps or in psychiatric institutions. More...
PHOTOGALLERY AUGUST 1968 - CZECH RADIO PHOTOCOMPETITION
AUGUST 21ST OF 1968