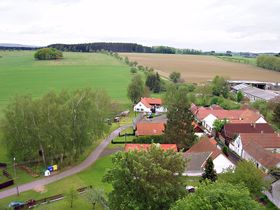 Kamen village, the view from the castle, photo: Wakowlk, CC BY-SA 3.0 Unported Interestingly, the modern history of Kamen is tied to motor vehicles - motorcycles to be exact. Today one of its largest rooms still features a unique exhibit of antique motorbikes in honour of early engineers and designers and a famous race once held in the region, known as the Pacov Circuit.
The route, over 60 kilometres long, saw the Austro-Hungarian Empire enter the racing frenzy, following Czech successes 2nd and 5th place finishes - at the world's very first motorcycle race held in 1904 in France: the Coupe Internationale de Motocycle Club de France.
The Pacov Circuit became a qualification round in 1905 and the site for the main race in 1906, in which ten racers took part. Nikodem was first on his Puch motorbike. Obruba was second, while an Englishman by the name of Collier came third on a Matchless. The Coupe, however did not take place in the years that followed, though the Pacov Circuit was eventually brought back on commemorative occasions in the years 1966, 76, and 81.
In the early 1970s, when Czechoslovakia was well in the grip of communist rule, nearby Kamen Castle was chosen as a suitable site for displaying some of Bohemia's very first bicycles and surviving motorcycles, a tradition that continues to this day.
One can still enjoy seeing original designs like the Walter model 5, the Jelinek, or one home-made design so powerful it could probably fly, if it didn't weigh one third of a tonne. Romana Maleckova is one of Kamen's guides.
"This home-built motorcycle dates back to 1905 and was used as a pace vehicle in cycling races. It weighs 300 kilograms but even so could still hit 105 kilometres per hour. The interesting thing is that its builder incorporated early agricultural machinery into its construction, for instance this transmission wheel originally came from a wheat thresher. Unfortunately, the motorcycle's front wheel is no longer an original as that was stolen in 1985 when the motorcycle was on display in Vancouver."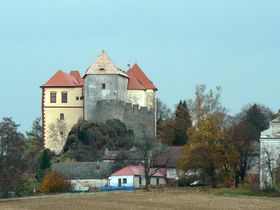 Castle Kamen Well, that is unfortunate. Still, of the thirty or so vehicles on display at Kamen, around six are fully functional, that you can start up and go.
Still, while visiting a castle of Kamen's age and history, motor vehicles could be the furthest thing from your mind - and who could blame you? The castle's roots stretch back some 800 years, and its setting on its rock promontory, as well as a luscious garden bring to mind 19th century Romantic settings. It's a small garden - just one acre but beautifully tended, framed by ever-present rock. Below the sheer castle face, meanwhile, part of the village lies, a piece on a flat green and yellow checkerboard that stretches far and wide.
Inside, our guide Romana awaits to tell us about Kamen's most prominent owners, the Malovec family, who owned the castle after 1523, holding on to what was then a residential property for some 200 years. Under their ownership the castle saw extensive reconstruction including the addition of a residential wing, a tower, and a Baroque Chapel.
One popular castle legend also goes back to this time:
"According to the legend Petr Malovec of Malovic took a certain Katerina for his wife, who immediately had all of his property written to her name and it was she who apparently had donkey's ears added to Malovec's coat-of-arms. The legend had it that the ears would only fall off when men's stupidity waned."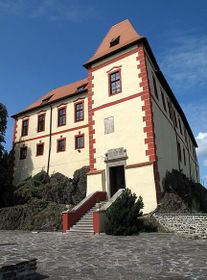 Castle Kamen, photo: Dezidor, CC BY 3.0 Unported Not very flattering indeed, thankfully just legend. Right?
After the Malovec family, Kamen then went through a series of owners, before being confiscated by the communists in 1948. The castle then saw extensive reconstruction in the 60s and 70s which, however, was less than sensitive to original architectonic elements, replacing original parquet floors, for example, with brick tiles that still make historic preservationists feel faint even now. On the whole, however, at least the castle is in excellent shape.
It never fell into the extensive disrepair so many other structures suffered under communist rule. Kamen's director Miloslav Vanha.
"I probably shouldn't say it but Kamen is no longer only stone and brick but also has incorporated iron reinforcement - that was basically the approach at the time. But, at least it's in perfect shape."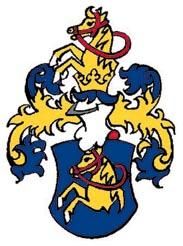 Malovec's coat-of-arms Purists shall also not be able to see interiors originally associated with Kamen - those items were either looted or lost long ago, which is not to say that antique furniture and paintings in the castle do not have historic worth. There is a rich library full of books in German and French, a knight's hall with a webbed, vaulted ceiling from the 16th century, and in the next room a famous epitaph attributed to Jan Krystof Malovec of the Malovec family, that may send chills down your spine.
Its opening lines read:
"Oh reader what am I?
Dust and ash,
I, who was born of noble rank,
a respected knight,
Jan Krystof Malovec from Malovic,
Kamen's lord, whose legacy now is but worms..."
Just a reminder that, indeed, Kamen, having survived so many centuries, will continue to dominate the landscape even after its most recent visitors have passed on.