Jiri Novak to face world number one Ferrero at Paris Masters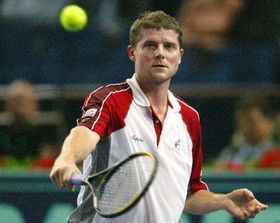 Jiri Novak, photo: CTK The Czech tennis number one, Jiri Novak, has reached the third round of the Paris Masters tournament, in which he is seeded 14th. After a bright start in the second round on Wednesday, Novak looked in trouble when he allowed France's Fabrice Santoro back into the match in the second set, though the Czech regained his composure to power through the third. The score: 6-4, 4-6, 6-0. Novak, whose next opponent is world number one Juan Carlos Ferrero of Spain, said he was surprised Santoro had played so well in the second set.
"I think Santoro played a few great balls, though I had a few chances which - unfortunately - I didn't take. But it doesn't mean anything, there's only one winner and I won the first and third sets...at the end of the match I was on top and I was the better player. I was pretty confident because I've beaten him the last three times we played. I think he was aware of that too and you could see it in his game."
Sparta close gap on Ostrava with controversial win over Brno
Reigning champions Sparta are slowly catching up on league leaders Banik Ostrava, with a 1:0 win over Brno on Monday evening leaving the Prague club just three points behind. Their win was not without controversy: Brno had two goals disallowed for offside, though TV footage seemed to suggest the strikes were legitimate. Coach Karel Vecera said Brno had won a "moral victory".
First division teams fall in poorly regarded Czech Cup
There were no victories, moral or otherwise, for several first division teams in the third round of the Czech Cup this week. Slavia, Olomouc and Zizkov were all knocked out by clubs from the lower divisions, perhaps a reflection of the tendency of first division clubs not to field their best teams in a competition few take seriously.
Jarosik becomes the first Czech to win a Russian league title with CSKA
Jiri Jarosik - one of several Czech footballers to join clubs in Russia in recent years - has become the first Czech ever to win a Russian league title. Jarosik and his CSKA Moscow team-mates have been celebrating since a victory in the second last game of the season meant their nearest rivals could not catch up. The team who came second, Zenit St Petersburg, have five Czech players and a Czech manager, Vlastimil Petrzela; the club's fans are apparently so grateful for the success Petrzela has brought them they're talking about erecting a statue of him in the city!
Ice hockey round-up
Pardubice have seen their lead in the Czech Extraliga reduced: they drew with Vitkovice on Tuesday, while Sparta and Zlin won their games, leaving them both just two points behind. Meanwhile, Czech forward Josef Vasicek scored the first hat trick of his career on Tuesday; fans of his club the Carolina Hurricanes call Vasicek the "Czech Condor".
As NBA season begins Welsch plays just three minutes for new club Boston
The only Czech player in basketball's NBA, Jiri Welsch, played for only three minutes in the first game of the season for his club the Boston Celtics, who he joined from Dallas, just before the season began.