Czech footballers earn three important points in scrappy clash with Belarus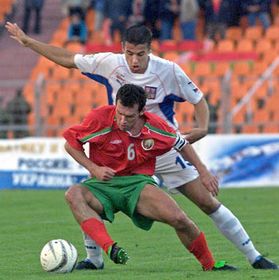 Czech Republic - Belarus, Milan Baros (right), photo: CTK It was mission accomplished for the Czech Republic's football team in Minsk on Saturday, when they beat Belarus to keep them on course for a place at next year's European Championships in Portugal. The game certainly won't be remembered as a classic and the Czechs were made to work hard by Belarus, who took the lead after a quarter of an hour. Twenty minutes later captain Pavel Nedved calmed Czech nerves when he equalised with a free kick after Milan Baros was fouled. Baros himself then made amends for a few fluffed chances by putting the Czechs in the lead on 54 minutes. Two substitutes combined to give the Czech Republic their third five minutes from time: Stepan Vachousek put Vladimir Smicer through with a well-timed pass and the Liverpool midfielder made no mistake, giving the Czechs a deserved, if scrappy, 3:1 victory.
Netherlands game the big one as Euro 2004 campaign nears end
The Czech Republic currently lead their group on goal difference ahead of the Netherlands, who visit Prague for the biggest game of the whole campaign on Wednesday night; the outcome of that match should determine which team qualifies automatically and which has to face play-offs. The Czechs really need to go for a win: it's all very complicated, but a 2:2 draw would mean the Dutch would win the group just by beating Moldova in their final game. On the other hand, if it were a scoreless draw the Czechs would come top if they beat Austria.
Doubts remain over Galasek, Jankulovski definitely out after Minsk yellow
Coach Karel Brueckner will be hoping Ajax's Tomas Galasek will be fit in time for Wednesday's game; his knowledge of Dutch football could come in useful. One thing is certain, though: defender Marek Jankulovski is definitely out after picking up a yellow card in Minsk.
Under 21s beaten but still topping group
The Czech Under 21s, meanwhile, were beaten 1:0 by Belarus but stay top of their group over the Belarussians on goal difference. The Czech Republic, currently European Under 21 champions, have a game in hand over Belarus with two games to go.
Home advantage no help to Czechs in first Euro Hockey Tour competition
Home advantage did not help the Czech Republic much in the Ceska pojistovna Cup, the first competition in the Euro Hockey Tour. Having gotten off to a bright start with a win over old foes Russia on Thursday, Slavomir Lener's men lost to both eventual winners Finland and Sweden, finding themselves in last place when the competition ended on Saturday evening.
European Championships a disappointment for Czech volleyball team
After an impressive showing at the World League two months ago, the Czech Republic's men's volleyball team have not been doing so well at the European Championships. The Czechs lost to Italy and Germany in their first two games before beating Slovenia 3:1 on Sunday to restore some pride at least.
Freestyle aerial skier Valenta begins season with a fall and 12th place
Freestyle aerial skier Ales Valenta began his new season badly with a fall in the final of a World Cup competition at Mt Buller, Australia. The Olympic champion finished in 12th place.