Czechs face Holland and Belarus in EURO 2004 qualification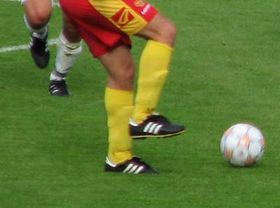 Football - the Czech team is facing two crucial matches in the EURO 2004 qualifiers. On Saturday they will encounter Belarus and then the Netherlands on Wednesday. The Czechs and the Dutch currently share 13 points and if Wednesday's match produces a clear result the victors will almost certainly win Group Three. However, matters will not be as clear-cut if the Austrians manage to spring a surprise over the Dutch in Rotterdam on Saturday. Moldova and Belarus are out of the reckoning.
Srnicek returns to premier league with Portsmouth
Czech goalkeeper Pavel Srnicek is returning to the English premier league with promoted Portsmouth after two seasons in Italy with Brescia. Srnicek, who had been having trials with Wolverhampton Wanderers, also played for Sheffield Wednesday before moving to Italy. He spent the second half of last season at Serie B club Cosenza.
Dopita joins Pardubice
Ice hockey - Czech centre Jiri Dopita has signed a contract with Pardubice for the coming Extraliga season. Jiri Dopita, a three-time world champion and veteran of the Nagano Olympic gold-medal winning team, is returning home after two years in the NHL. First he played for Boston, then Philadelphia and most recently Edmonton. He had reportedly received an offer from Florida but eventually decided for the Czech team Pardubice. The details of the one-year contract were not disclosed.
Slegr signs for Vancouver again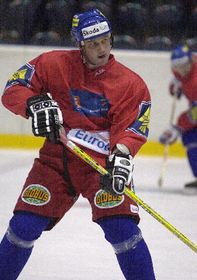 Jiri Slegr, photo: CTK And staying in Pardubice, another Nagano gold-medallist, Jiri Slegr, has complicated the situation for the Czech team at an international tournament taking place in the eastern Czech town. 32-year-old Slegr signed a contract with Vancouver Canucks, just a day before the Czechs were to face Russia on Wednesday. Slegr started his overseas career in Vancouver in 1992, but then played for several other NHL clubs as well as clubs in Sweden and Russia.
Czech ski-alpinists to scale a virgin Himalayan peak
A group of eight Czech ski-alpinists left for Nepal on Thursday to scale a 7-thousand metre virgin peak, and then ski down the other side. The mountain, 7590 metres high, is not far from Mount Everest. It is called Peak 38 on maps, but local people know it as Shantishikhar. One of the members of the team is Vladimir Smrz, a ski-alpinist record holder who was the first Czech to ski down from an altitude of over 8000 metres. The expedition will send regular reports over the internet and satellite phone.
Man enjoys joy ride in stolen racing car
And finally, an odd event in motor racing: the Czech police have arrested a thief who sped off from a European Championship road rally in one of the competing cars. The man stole a beefed-up Skoda Fabia covered in endorsement logos and the race number 109 on Sunday from a parking lot after the last leg of the Barum Rally at the Zlin racecourse. Local people reported they saw the car zipping down roads in the region. The car is worth more than 1 million crowns or (35,000 US dollars), although Barum race officials said it came in last place in its class competition.