Zelezny's fourth place a disappointment in Paris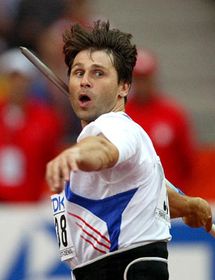 Jan Zelezny, photo: CTK The Czechs suffered a great disappointment at the athletics World Championship that ended in Paris at the weekend, when javelin thrower Jan Zelezny ended fourth with a best distance of 84.09. Russia's Sergey Makarov came first with a mere 85.44 metres. Three-times world and Olympic champion, Zelezny, who is 37, has thrown 89.06 this year and complained that short throws by other competitors made his shorter, too. Zelezny had originally planned to concentrate only on his preparations for next year's Athens Olympics, but changed his mind and did go to Paris, where he was a clear favourite.
Czechs bring home two medals from rowing championships
Czechs are bringing home two medals from the rowing World Championships in Milan, Italy, and have secured five places at the Athens Olympics. Ondrej Synek and Milan Dolecek came third in the men's double sculls, and the Czech team Jirka, Hanak, Vitasek and Kopriva won silver in the men's quadruple sculls. In the men's single sculls, Vaclav Chalupa ended fourth, so did his colleague Mirka Knapkova in the women's single sculls. The last time Czech rowers won two medals at a rowing championships was two years ago in Lucerne, Switzerland.
Tennis - both Novak and Stepanek out of the game at U.S. Open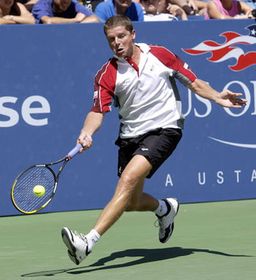 Jiri Novak, photo: CTK Czechs have had bad luck at the U.S. Open tournament. 10th seed Jiri Novak lost to Moroccan Younes El Aynaoui 7-6 5-7 3-6 6-3 7-6 in the third round on Sunday. It was a tumultuous, three hour, 29 minute match appreciated by the crowds, who gave the Slavia Prague midfielder Rudolf Skacel has signed a four-year contract with Olympique Marseille. pair a standing ovation at the start of the fifth-set tiebreak. El Aynaoui collapsed in relief to the floor but then ripped off his shirt and threw his rackets into the crowd.
Another Czech in the tournament, Radek Stepanek, was an easy prey for sixth seed Lleyton Hewitt of Australia on Saturday. Stepanek retired injured while trailing 6-1 3-0 in their third-round match. Stepanek took a medical time out to receive treatment on an apparent back strain in the second set. But since Hewitt was passing him with ease, Stepanek decided he could not continue.
Sparta - Slavia: 0-0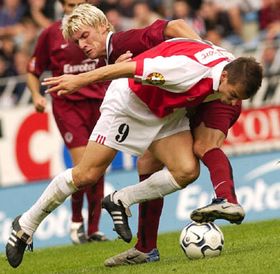 Sparta - Slavia, photo: CTK The much-anticipated match between the big Prague "S", Slavia and Sparta, ended in an all-nil draw on Saturday. Sparta was resisting Slavia's pressure most of the time, and Sparta was happy to defend one point at home in the end. Slavia is 5th in the first division standing with 11 points, one point ahead of Sparta. Ostrava leads the chart on 16 points, followed by Brno and Teplice.
Slavia's Skacel to join Olympique Marseille
Slavia Prague midfielder Rudolf Skacel has signed a four-year contract with Olympique Marseille. Skacel, who is 24, will join former Slavia Prague teammate Stepan Vachousek at the French first league club. Skacel started his career at Hradec Kralove before joining Slavia in 2001.