Dreams fade for Slavia, Sparta have good chance of Champions League
action The Prague football clubs Slavia and Sparta were both in action this week in the first leg of the final qualifying round for the Champions League. Slavia visited Celta Vigo on Tuesday and were comprehensively beaten 3:0 by the Spanish club. As striker Pavel Kuka put it, the Prague team were given a lesson in modern football. Among the other Slavia players quick to praise their Spanish opponents was midfielder Richard Dostalek.
"They were a really top quality side and we didn't have even one chance on goal. The quality of their play in the penalty area just left us in the shade."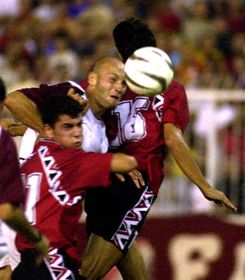 Sparta Praha - Verdar Skopje, photo: CTK Slavia's dreams of Champions League action - and an estimated 100 million crowns - look effectively over. Sparta, meanwhile, took a big step towards the big bucks on Wednesday, when they beat Vardar Skopje 3:2 away. Captain Karel Poborsky showed he can still turn it on when he wants to by scoring two goals. Sparta's other goal came from Igor Gluscevic, who quickly took a free before the Vardar wall or goalie were ready. Not very sporting, you might say, but the referee allowed the goal to stand. Both second leg games take place in Prague in a fortnight's time.
Fitness problems dog Czech team for Athletics World Championships
The Czech Athletics Union this week announced the 24-member team which will represent the Czech Republic at the Athletics World Championships in Paris, starting on Saturday week. Only decathlete Tomas Dvorak and Jan Zelezny in the javelin had guaranteed places at the championships as defending champions. However, it is not yet clear whether Zelezny, who is now 37, will make it to Paris. Here's Vaclav Fiser of the Czech Athletics Union:
"I'd say it will depend on his health but I believe he will decide to go to the championships. For the other Czech athletes he's the athletics master. They show him a great deal of respect and when he is there the potential of the team increases, from the psychological point of view."
Jan Zelezny is expected to announce whether he is going to Paris after this Friday's Golden League meeting in Zurich. Unfortunately, he is not the only Czech athlete with health problems; triple-jumper Sarka Kasparkova, who was world champion in 1997, has back problems and decathlete Roman Sebrle had a fever at the weekend, although he is expected to be well for the Paris meeting.
Jagr returns to Kladno, for one evening at least
Ice hockey star Jaromir Jagr returned to his first club Kladno on Wednesday for a charity game. Jagr appeared for both Kladno and his own Jagr Team all-star line-up. Speaking to the media afterwards, he said he was still unsure if he would be staying with the Washington Capitals next season.