Pribram persuade ref to rule goal offside, five minutes after he'd allowed it!
Only a few weeks after the new Czech football season began, there have already been several controversial refereeing decisions. But one incident in Saturday's game between Sparta Prague and Pribram is being described as unique in the history of the league, with the referee ruling a goal off-side a full five minutes after signalling that it was legitimate! Neither linesman said Igor Gluscevic's goal was offside, but Pribram captain Horst Siegel evidently persuaded ref Lubos Helebrant to disallow the goal! Cue outrage from Sparta players, management and fans. Unusually referee Helebrant attempted to explain himself to the media after the incident:
"As long as play hasn't resumed I'm allowed to change my decision, and I did so after talking to my assistant. That's much better I think than to blindly allow an illegitimate goal. Of course it's not a pleasant situation but the rules allow it and it's better than doing nothing and letting a goal stand when it wasn't really a goal."
The game ended 0:0, and to add to Sparta's woes after they left the field they discovered that 90,000 crowns worth of valuables had been stolen from their changing room.
Czech league round-up
Elsewhere in the Czech league, Slavia Prague fielded seven reserves in their 2:0 win over Zlin, coach Miroslav Beranek resting many of his first team regulars ahead of Tuesday's Champions League qualifier away to Spain's Celta Vigo. Liberec beat Plzen 3:1 with two goals from former Sparta man Michal Pospisil, and Zizkov put two past Blsany without reply.
Rosicky's best performance yet for Borussia Dortmund?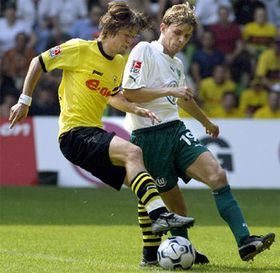 Tomas Rosicky (left), photo: CTK Czech international star Tomas Rosicky had one of his biggest games yet for Borussia Dortmund at the weekend. In front of a record home crowd of over 80,000, Rosicky, wearing the captain's armband once again, scored twice in Dortmund's 4:0 win over Wolfsburg. Fellow Czech Jan Koller also got a goal in that game. And Jiri Stajner scored for Hannover, in their impressive 3:3 draw with Bayern Munich.
Hasek to get off with fine after in-line hockey attack
There was good news for Czech ice hockey goaltender Dominik Hasek on Friday, when the Pardubice state attorney decided to halt criminal proceedings against him; Hasek, who had been accused of brutally attacking an opponent during a game of in-line hockey, is expected to get off with a fine. After a year in retirement, the 38-year-old has just rejoined NHL club the Detroit Red Wings.
Doktor wins three golds (as usual) at Czech Canoeing Championships
Canoeist Martin Doktor cleaned up at the Czech Canoeing Championships in Racice at the weekend, taking three golds to make a total of 57 Czech titles in his career. Doktor, who won two golds at the Atlanta Olympics, hasn't been beaten at the domestic championships since 1996.