Slavia to battle Celta Vigo for place in lucrative Champions League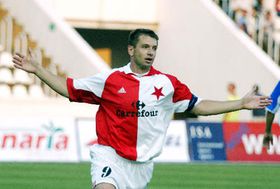 Pavel Kuka, photo: CTK Slavia Prague are through to the final qualifying round of football's most prestigious club competition, the Champions League. On Wednesday night Slavia beat Bosnian champions Trebinje 2:0, making it 4:1 on aggregate. And though he didn't get on the score sheet Brazilian striker Adauto was Man of the Match, as one newspaper put it "with the ball at his feet it was as if he was dancing the samba." Trebinje players were apparently congratulating Slavia on winning when the first goal was scored, even though it came before half-time. The man who got that goal, former international Pavel Kuka, said afterwards that Slavia had not been playing, as they say in Czech, "on full gas":
"We wanted to progress to the next round and we've done so, which is not an excuse for our performance. We played as well as we needed to. In the last two weeks we've been playing on Wednesdays and Saturdays and in this heat it's not really possible to play all out."
In their bid to reach the Champions League for the first time Slavia face tougher competition next week, in the first tie against the quality Spanish side Celta Vigo. Sparta Prague, meanwhile, face Vardar Skopje, who upset the form book by knocking out CSKA Moscow.
Liberec and Brno out of Intertoto Cup
Slavia weren't the only Czech club in European action on Wednesday, though they were the only successful one. Liberec drew 0:0 at home with Schalke, the 2:1 aggregate score sending them out of the Intertoto Cup. Brno are also out of that competition, having lost 3:1 to Villareal of Spain on aggregate.
Nedved doesn't meet Nedved, fails to buy shirt
Czech football captain Pavel Nedved was disappointed recently not to meet Czech ice hockey star Petr Nedved of the New York Rangers. It was such bad luck, said Pavel Nedved, my first visit to the States and he's at home in the Czech Republic. Pavel then decided to buy a Petr Nedved jersey but - more bad luck - they were sold out.
Jan Priborsky seventh and youngest Czech to swim English Channel
The seventh and youngest Czech to swim the English Channel, Jan Priborsky, has been talking about the experience. Priborsky said he had wanted to swim the channel "because it's there," adding that a three-week stay at a Dover bed and breakfast waiting for good weather turned out to be expensive. It took the Brno based swimmer 12 hours and 5 minutes to reach France.
Argentinean duo win beach volleyball competition at Mustek
The bottom of Prague's Wenceslas Square was host to a most unusual event on Wednesday: a beach volleyball tournament, of all things. Over a thousand people watched the Argentinean duo of Baracetti and Conde defeat all comers, including Czechs Michal Palinek and Stepan Smrcka, who came third.