Slavia's Pavel Kuka scores 100th goal in Czech league, 150th of career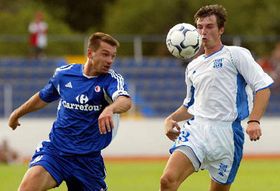 Slavia's Pavel Kuka (left), photo: CTK Veteran Slavia Prague striker Pavel Kuka has, at the age of 35, scored his 100th goal in the Czech football league. His late strike in Slavia's 2:0 win over Blsany was actually Kuka's 150th league goal, counting those he scored during a stint in the Bundesliga. Slavia had been expected to beat Blsany, though Saturday's game did come soon after a Champions League qualifying tie in the blazing heat of Bosnia's Trebinje. Here's what Pavel Kuka, one of the most respected figures in Czech football, had to say after the game:
"Winning today's game was a kind of duty, though it was very difficult. And playing twice in three days in this incredible heat was really too much for us. We definitely wanted to win, we had the chances and we had a bit of luck and were able to score."
Pavel Kuka and Slavia take a 2:1 lead into their home tie against Leotar Trebinje on Wednesday. Unless Trebinje pull off a major upset, Slavia will then face Spain's Celta Vigo in the last round of qualification for every club's dream, the Champions League.
Czech league round-up
Back in the domestic league, Sparta beat first division new boys Opava 4:0 in their first home game of the season, Viktoria Zizkov beat Plzen 2:0 away and Ostrava drew 1:1 at home with Liberec.
Rosicky captains Dortmund at 22, Stajner and Simak shine for Hannover
Germany's Bundesliga kicked off at the weekend, with Borussia Dortmund captained for the first time by Czech midfielder Tomas Rosicky. Rosicky has been made stand-in captain despite the fact he is only 22 - Dortmund perhaps hoping to keep the player satisfied so he stays with them as long as possible. Czech striker Jiri Stajner scored for Hannover in their win over Hamburg, with Jan Simak also playing well in his first game for Hannover after a disastrous season at Leverkusen.
Police investigate alleged mafia methods in world of Czech football
agents The police are investigating an allegation that top Czech agent Pavel Paska - who represents the likes of Rosicky and Milan Baros - used the Russian mafia to try to intimidate a rival agent. The allegation was made by Julius Kramaric, who said the incident occurred while he was in Russia trying to secure a deal for Brno's Libor Dosek. Paska denies the claims, saying it is simply an effort to blacken his name.
Hilgertova ends exceptional season with second in Water Slalom World Cup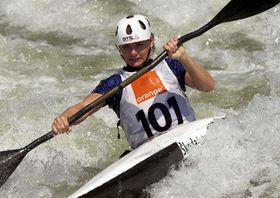 Stepanka Hilgertova, photo: CTK Kajaker Stepanka Hilgertova has crowned a great season by coming second in the Water Slalom World Cup, after coming first in a competition in Cunova, Slovakia on Sunday. Hilgertova's success came just a week after she took gold at the World Championships in Germany. Asked to describe her season in one word, Hilgertova said it was "exceptional."
Tennis round-up
Czech player Klara Koukalova reached her third WTA final at the weekend, only to lose for the third time. Koukalova, who was unseeded, was beaten 6-2 6-0 by Israel's Anna Pistolesi in the final of the Sopot Open in Poland. And Bohdan Ulihrach has reached an out-of-court settlement with the ATP, after the player was wrongfully suspended for nine months for a drugs offence. The amount Ulihrach is to receive has not been disclosed.