Swimmer Svoboda looks to Olympics after good result in Barcelona
The Czech swimmer Kvetoslav Svoboda put on a very impressive performance in the men's 200 metres freestyle at the world championships in Barcelona on Tuesday. While coming fourth isn't normally regarded as a success, Svoboda was more than satisfied, given the opposition and the resolute manner in which he finished one of the most keenly watched races in swimming:
"I was trying to keep up with the main group, but in the last 50 metres I stopped looking at them and only paid attention to my own lane. I closed my eyes, as they say and touched the wall ahead of the pack...excellent. The Olympics are next year. It will either be a bit better or maybe a lot better, so let's see what happens. Trainer Kyner and I will do the maximum to win a medal for the Czech Republic."
Another Czech swimmer, Ilona Hlavackova, was also in good form in Barcelona: she broke the Czech record for the 50 metre backstroke in her heat and once again in the semi-final on Wednesday.
Grygera ends speculation by joining fellow Czech Galasek at Ajax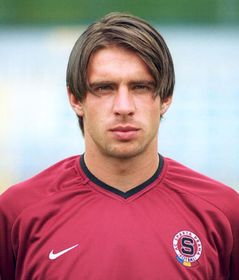 Zdenek Grygera, photo: CTK Czech international fullback Zdenek Grygera has finally left Sparta Prague, joining Ajax Amsterdam for a fee of 112 million crowns. Grygera, who is 23, says the presence of his international team-mate Tomas Galasek should make the transition to the European big-league that bit easier. For his part, Galasek said he was looking forward to having another Czech at the club:
"I'm glad that after seven years somebody else is coming from the Czech Republic to play at my club. I'm quite looking forward to it. He can count on my help...let's hope he's made the right choice."
Under 21s take bronze at European Championships
The Czech Republic lost 1:0 to Italy in the semi-final of the European Under 21 Championships in Liechtenstein on Wednesday. The Czech youngsters take home bronze medals from the competition, which does not have a third-place play-off.
New football season begins this weekend
It's hard to believe the summer break is over already, but the Czech football league begins again on Saturday, with champions Sparta the bookies' favourites to win. Their fans will have to get used to a much-changed line-up - Sparta bought eight players during the close season, and may yet sign a replacement for Grygera.
Sparta women stripped of title for fielding player registered in US
league Meanwhile, Sparta's women's team have been stripped of their league title, for fielding a player registered in the American league during the play-offs. The team they beat in those ties, Slavia, have been awarded the title.
Bedanova bows to pressure from sponsors and takes German citizenship
The Czech women's number two Daja Bedanova has decided to take German citizenship. The Ostrava-born player, once ranked 16th in the world, was under pressure to do so from her German sponsors.