Dominator is back in the game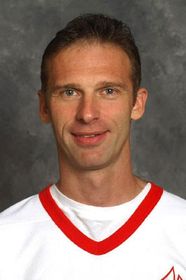 Dominik Hasek, photo: CTK Czech goalkeeper Dominik Hasek ended his one-year retirement on Tuesday, as the Detroit Red Wings announced that the six-time Vezina trophy winner as the NHL's top netminder would return to the team next season. Hasek said the motivation factor was to get back in the game and compete again. "When I retired, I felt like I wasn't hungry. In the playoffs, I felt like my fire was back. I do not have an interest in playing anywhere else, but for the Red Wings," Hasek was quoted as saying. Hasek, who led the Czech Republic to Olympic gold in 1998 and the Wings to the 2002 Stanley Cup, is expected to return as Detroit's number one goalie. Known for his intimidating stance and famous floppy-style goaltending, Hasek spent most of his career with the Buffalo Sabres, where he clinched two Hart trophies as the NHL's most valuable player.
Ulihrach cleared of doping charges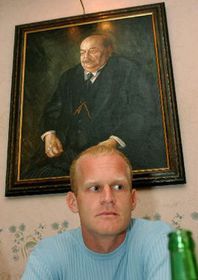 Bohdan Ulihrach, photo: CTK The ATP has admitted that it made a mistake when it punished Czech tennis player Bohdan Ulihrach for doping. The 28-year-old Ulihrach was one of seven players who tested positive for nandrolone between August 2002 and May this year. Ulihrach was banned in May for two years, fined over 43,000 USD and docked 100 ranking points. The ATP has now cleared him of the charges, after it was discovered that an electrolyte replacement product, or salt tablet, routinely given to players by ATP trainers may have been contaminated with the banned substance. Bohdan Ulihrach told my colleague Pavla Horakova he was extremely pleased that this episode in his life was now behind him:
"It is an unbelievable feeling right now. I am happy that the ATP changed the decision and I can do what I like most - to play tennis."
What are your immediate plans?
"The day after tomorrow or next week I am planning to go tournaments in Amsterdam or Stuttgart."
Did you always hope that the court ruling would be in your favour?
"Yes, I hoped that all the time."
Novak reaches Swiss Open quarter-finals
Jiri Novak moved into the Swiss Open quarter-finals after coming from behind to defeat Frenchman Paul-Henri Mathieu on Wednesday. The third-seeded Novak, who won the tournament in 2001, triumphed 1-6 6-2 6-3 and will be joined in the last eight by fellow seeds Gaston Gaudio and Juan Ignacio Chela of Argentina.
Czech women do badly at Palermo International tournament
Meanwhile, Czech women have been less lucky at the Palermo International WTA Tournament. Second seed Denisa Chladkova was defeated by Anabel Medina Garrigues of Spain 6-1 6-7 6-3, and Klara Koukalova lost to French Virginie Razzano 6-2 6-1.
Top Czech athletes may miss world championship
And finally onto athletics, and many top Czech athletes are likely to miss the world championships due to take place in Paris in August. Decathlete Tomas Dvorak, runner Ludmila Formanova, triple jump specialist Sarka Kasparkova, pole-vaulter Stepan Janacek as well as several other leading athletes have had health problems that will prevent them from taking part in the Czech championship this weekend in Olomouc. Except for Kasparkova, most of them will fail to collect the necessary points for Paris.