Chladkova gets first Grand Slam seeding at Wimbledon
The draw has been made for the world famous Wimbledon tennis tournament, which gets underway on Monday. Czech Jiri Novak, seeded 11th, faces the Peruvian player Luis Horna, while Radek Stepanek takes on Julien Boutter of France. In the women's singles two Czech players, Denisa Chladkova and Klara Koukalova, meet in the first round. Chladkova - currently the leading Czech women's player - is seeded 30th, the first time she has ever been seeded in a Grand Slam tournament. However, that's not something she regards as an advantage.
"It's a good thing in that you have less chance of coming up against a really good player at the beginning of the tournament. It gives you the chance of a relatively decent draw, but that's as far as the advantage goes. It's not as if anyone would be afraid to play a seeded player."
Ostrava and Bohemians sign new managers
After weeks of speculation, Banik Ostrava football club have found a new manager. Frantisek Komnacky, who has spent some years coaching in Slovakia, said he believes he can do the job at Ostrava even if - as is expected - they lose international defender Rene Bolf, and hotly-tipped young strikers Vaclav Sverkos and Michal Papadopulos. And the recently relegated Prague club Bohemians also have a new manager, Zdenek Hruska, who was a goalkeeper for the Kangaroos in the 1980s.
Sparta's summer spending spree continues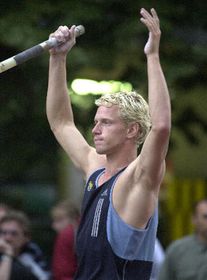 Adam Ptacek, photo: CTK Sparta Prague's summer spending spree continues with the signing of striker Igor Gluscevic from Montenegro and Serbian defender Mirko Poledica. However, there could be a problem as there are now five foreigners at Sparta (including three Slovaks) and only four can be fielded at one time. Sparta have bought seven players in the last few weeks, and are also planning to exchange striker Michal Pospisil for Liberec defender Petr Johana. And the latest speculation about Sparta's star right back Zdenek Grygera is that he will follow Jiri Jarosik to Russian league leaders CSKA Moscow.
Prague Pole provides unusual spectacle on Wenceslas Square
Pedestrians on Prague's main thoroughfare, Wenceslas Square, were treated to an unusual spectacle on Wednesday afternoon: a pole-vaulting exhibition. The city centre Prague Pole competition, now in its ninth year, ended early due to a storm, meaning that there were two men's winners, Czech Adam Ptacek and Russia's Vladimir Stogaljov. The women's event was won by Jelena Isinbajevova, also of Russia.