Football captain Nedved says next two Euro 2004 qualifiers will be crucial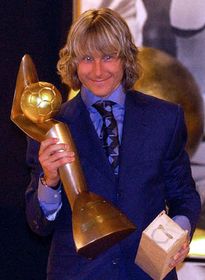 Pavel Nedved, photo: CTK As we reported last week, Pavel Nedved has been named the Czech footballer of the year. At club level he helped Juventus to the Champions League final and their second Italian title in a row in the season just ended while, as captain, Nedved has led the national team to a string of great results. The player says, however, that the Czech Republic's success was largely down to their coach, Karel Brueckner.
"Everyone likes his style of play. He likes attacking football and scoring goals, though of course he doesn't neglect the defence. He has many good ideas which can be put into effect on the pitch, as regards attacking play and set pieces. He really tries to teach us a lot."
The Czech Republic currently lead their Euro 2004 qualifying group on goal difference, and indeed the only points they have dropped have been in their away clash with second-placed Holland. Pavel Nedved says whether the Czechs get to the championships in Portugal depends on their next two games in September.
"The next games will be the deciding moment of the campaign, Belarus away and Holland at home. I think those games will decide everything."
The Belarus game takes place on September 6, while the Holland clash is four days later.
"Little dream" comes true for comeback kid Enge at Le Mans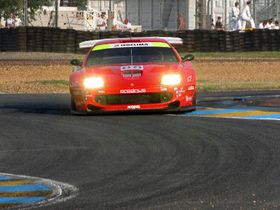 Tomas Enge, photo: CTK Tomas Enge, the Czech racing driver who lost the Formula 3000 championship last year when cannabis was found in his blood, has spent this season trying to revive his career. His latest step on the road to rehabilitation was a respectable 10th place overall in the legendary Le Mans 24-Hours race. The Liberec-born driver and his Dutch and British team-mates also came first in their category. Enge, who is the only Czech to have ever driven in Formula 1, said he was pleased to have notched up another first.
"I'm very glad to be the first Czech to win at Le Mans, if not outright at least in the GTS category. It was great for me because I had a little dream since last year - when I had to pull out for technical reasons - to come back here and win."
Police to charge ice hockey legend Hasek with bodily harm
Regular readers will know that former ice hockey star Dominik Hasek had been banned for a year from the sport of in-line hockey for attacking an opponent who had to be hospitalised with concussion. Now things have gone from bad to worse for the legendary goaltender; police in Hasek's hometown of Pardubice have served him with a summons and are going to charge him with deliberate bodily harm. If found guilty, the 38-year-old could spend up to two years in prison. Hasek, who became a national hero in the Czech Republic following the country's ice hockey gold at the 1998 Nagano Winter Olympics, maintains his innocence, saying he merely fell on the other player.
Sparta fly in American to help secure victory in women's football league
As in the men's game the biggest rivals are Prague clubs Sparta and Slavia, and both met on Saturday in the second leg of a play-off for the league title. Sparta, who have won the league for the last ten years in a row, pulled a bit of a fast one by flying in especially for the one game Regina Holan from the vastly superior American women's league. Holan didn't score but she did help Sparta to a 3:0 victory on the day, which gave them a 3:1 win overall and another league title.