Czechs top Euro 2004 qualifying group again after 5:0 win over Moldova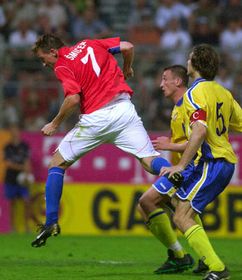 Czech Republic - Moldova, Photo: CTK The Czech Republic's footballers needed to beat Moldova by two goals or more to knock Holland off top-spot in Euro 2004 qualifying Group 3 and made no mistake with an emphatic 5:0 victory in Olomouc on Wednesday. Vladimir Smicer opened the scoring just before half-time but the Czechs really turned it on in the second half, starting with a penalty from Jan Koller. That was followed by an amazing solo effort from Jiri Stajner - who carried the ball an incredible 80 metres - and two headed goals in the last ten minutes from Vratislav Lokvenc, who like Stajner came on as a substitute.
Nedved named Footballer of the Year
The Czech team were out in force for a rather different occasion on Thursday night, the Player of the Year awards in Prague. International captain Pavel Nedved took the prize - indeed the Czech press have been talking up his chances of becoming European Player of the Year. National coach Karel Brueckner was Manager of the Year, again an obvious choice, as was Petr Cech as Goalkeeper of the Year. The Young Player of the Year was Mario Licka of Banik Ostrava, a club with a high reputation for nurturing young talent.
Football transfer news
Former Czech captain Jiri Nemec has joined Sparta Prague as has another Jiri, Jiri Rosicky, the older brother of international midfielder Tomas.
Golden Spike most important athletics meet ever held in Czech Republic
The most important athletics event ever held in the Czech Republic took place on Thursday. The Golden Spike in Ostrava is not a new competition but this year was part of the IAAF Super Grand Prix and attracted a host of world stars. Among them was 1500m world record holder Hicham El Guerrouj. The Moroccan runner thrilled the 20,000-strong crowd with second place in his first ever attempt at the 5000m; that race, by the way, was entitled the Emil Zatopek memorial. World pole-vault record holder Stacy Dragila of the US, meanwhile, only managed a second placing. But local fans had something to celebrate as Czech Jan Zelezny finished metres ahead of the competition in the javelin with a throw of 88.99m.
Stanley Cup success for two Czech ice hockey players
Two Czech ice hockey players have this week been celebrating winning the sport's most prestigious competition, the NHL's Stanley Cup. When New Jersey beat Anaheim in the final game, Czechs Patrik Elias and Richard Smehlik picked up winner's rings, even though Smehlik did not get to play in the final series.