Striker Koller looks fit for Euro 2004 qualifier against Moldova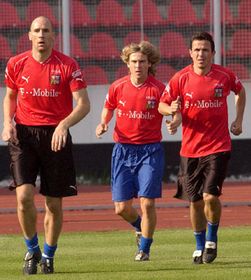 Jan Koller (left) With main rivals Holland having overtaken the Czech Republic in Group 3 by beating Belarus on Saturday, Pavel Nedved and co. know they simply have to take all three points from their Euro 2004 qualifier against Moldova in Olomouc on Wednesday. There had been some concern about the Czech Republic's most consistent goal-scorer, Jan Koller, but he seems to have recovered well from a recent groin operation. The gigantic striker took part in training on Saturday and had this to say afterwards.
"It looks good. Today I did more intensive and harder training than yesterday and the injury didn't give me any problems, so everything should be fine for Wednesday's game."
Berger joins Portsmouth while Poborsky stays at Sparta but plans to
retire In other football news, Patrik Berger has ended speculation about his future by signing with Portsmouth. Berger, who recently left Liverpool after seven years, reportedly took a sizable drop in wages to join the Premier League newcomers. Another member of the Euro 96 "silver" team, Karel Poborsky, has just agreed to stay a second year at Sparta Prague. The best-paid player in the Czech league says, however, that he will retire at the end of the season, at the age of only 32.
Stepanek wins second ATP tournament in front of home crowd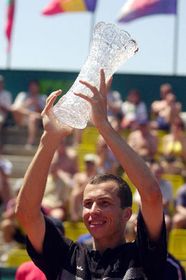 Radek Stepanek, photo: CTK Radek Stepanek has won the Zivnobanka Czech Tennis Open in Prostejov, beating Mariano Puerta of Argentina 7:5 6:3. Stepanek was particularly pleased to have won a trophy here in the Czech Republic.
"It's my second win in an ATP tournament. I'm especially pleased to have won it at home in front of a home crowd and in front of my family. I'm really happy about it."
Final game to decide battle of the Czechs in Stanley Cup playoffs
The battle of the Czechs in the Stanley Cup playoffs has come down to the last game in the best of seven series, after Anaheim beat New Jersey 5:2 on Saturday to make it three games apiece. Either Petr Sykora of Anaheim or Patrik Elias and Richard Smehlik of New Jersey will join the list of Czechs who have won Stanley Cup rings.
Jagr to leave Washington for New York Rangers?
There has been some speculation that Czech megastar Jaromir Jagr will leave the Washington Capitals for the New York Rangers as part of an exchange deal. Since joining Washington two years ago, Jagr has failed to display the form which won him so many fans at Pittsburgh.
Dukla take top Czech boat race for 24th year in a row
This country's most famous boat race, the Lord Mayor's Race on Prague's Vltava River has been dominated by the Dukla team for many years; on Sunday Dukla were troubled by neither the Russian Olympic team nor a team from Cambridge University, and notched up their 24th win in a row.