Outcry in ice hockey circles over Slavia-Sparta rematch ruling
There has been uproar in the world of Czech ice hockey over the decision of the Association of Professional Clubs to order the replaying of a December 10 Slavia-Sparta game which was ended prematurely when Sparta fans let off several smoke bombs. The management of the Extraliga had previously awarded Slavia a 5:0 win. Here's what Slavia's business manager Ladislav Blazek had to say on the matter.
"The whole thing leaves a very bad taste in the mouth, not just for me but for the whole of Slavia, and I think that there has been a new precedent, because the Association of Professional Clubs overturned the decision of the director of the Extraliga Standa Sulc, who had awarded us a win which, as far as we're concerned, was in complete accord with the rules."
As for Extraliga director Stanislav Sulc himself, he said he simply couldn't understand the decision, and even Sparta director Lubos Kozeluh said he was a bit surprised by it.
Make-shift Czech side plays two, wins two in Baltic Cup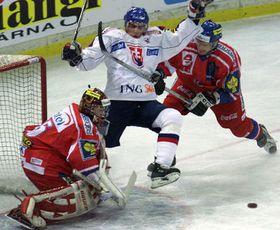 Baltic Cup, photo: CTK Staying with ice hockey, despite the fact that Czech national coach Slavomir Lener had huge problems assembling a squad for the Baltic Cup in Moscow, his last-minute call-ups have served him well, winning both of their games so far. On Tuesday they beat the Swedes 2:1, then did even better on Wednesday, with a 6:1 win over world champions Slovakia. In 28 meetings, the Czechs have beaten their old federal brothers an impressive 21 times.
Unhappy Christmas for former Penguin Jagr?
One of the biggest stars in the NHL, Kladno-born Jaromir Jagr is reportedly close to leaving the Washington Capitals. Jagr has never really got into his stride since joining Washington in 2000 after many years as a Pittsburgh Penguin.
Rosicky modest about Golden Boot win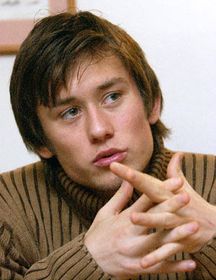 Tomas Rosicky, photo: CTK Borussia Dortmund midfielder Tomas Rosicky has been named Czech Golden Boot for the first half of the current season. In Prague for Christmas, the 22-year-old said the award should have gone to the Czech captain, Pavel "Meda" Nedved.
"This year I didn't expect it. I thought Meda would come first - Meda's always better than me (pause) I think I can be quite satisfied. As regards the national side we got all six points from our two games. As for Dortmund, we're in the second group stage of the Champions League and we're holding our own in the Bundesliga."
Shortlist for Footballer of the Year announced
The ten candidates for the more prestigious award for Czech Footballer of the Year have just been announced. They are Rosicky, Baros, Cech, Galasek, Koller, Nedved, Poborsky, Smicer, Stajner and Ujfalusi. Of the ten, only Karel Poborsky plays in the Czech league. The player of the year will be announced in February.