Czech volleyball team scrapes through to last 16 at world championships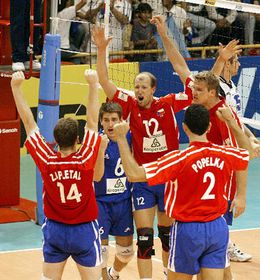 Czech volleyball team, photo: CTK The Czech volleyball team has got through to the last 16 at the world championships in Argentina after a dramatic 3:2 win over Greece. The Czech Republic had gotten off to a bad start at the championships, losing to both Cuba and Holland, and made it into the last 16 by the skin of their teeth, as the best third-placed team in the first stage. Czech player Ivo Dubs said the team were relieved not to be taking an early flight home from Argentina.
"We're really satisfied because it was our main aim. We achieved it after five months of hard training, and we're glad we didn't go home after just three games. The group is good for us - we could get through. We'll see how far we get. I think we can be satisfied.
The Czech Republic's group in the next stage includes the Netherlands, Brazil and France.
Football news
He doesn't often score goals, but Czech international midfielder Tomas Rosicky netted a beauty on Wednesday night, as his club Borussia Dortmund beat Eindhoven 3:1 in the Champions League. With the Eindhoven defence evidently expecting a cross, Rosicky cut inside a defender and stuck it in the back of the net, sweet as you like. His Czech teammate Jan Koller also got on the score sheet in that game.
Another member of the Czech national side, Tomas Ujfalusi, could be on the move from Hamburg soon, according to press reports. English champions Arsenal are said to be interested in Ujfalusi, though the defender says nothing concrete has been agreed, and he won't start intensive English lessons just yet.
Daja Bedanova drops father Jan Bedan as coach
The leading Czech women's tennis player Daja Bedanova has just parted with her coach, which in itself is not so unusual except for one fact, her coach of 13 years was her father, Jan Bedan. Bedanova, who is ranked 16th in the world, said it had been a hard and long-considered decision, but it was time to try working with a different coach. For his part, Jan Bedan said it had come as a shock, but his daughter had the right to make decisions about her own career.
In other tennis news, Bohdan Ulihrach has beaten Australian Open winner Thomas Johannson of Sweden 7:6 7:6 in the first round of Russia's Kremlin Cup.
Enge's manager suggest cannabis may have been put in driver's food
Manager Antonin Charouz has been speaking about the decision to strip racing driver Tomas Enge of his Formula 3000 championship after traces of cannabis were found in his blood. Charouz said that he had at first refused to believe Enge when he said he had never smoked the drug, but after consulting experts he now takes the driver at his word. While Enge himself refuses to offer possible explanations as to how the cannabis got into his system, his manager seems to believe someone deliberately put it in his charge's food. Motor racing is big business, said Charouz, and any driver who eats in a public place is taking a risk.