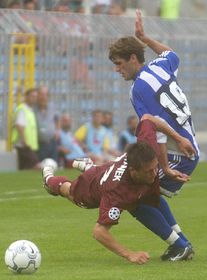 Sparta Prague won over Tornado Kutaisi, Photo:CTK Sparta Prague look set to reach the final qualifying stage of football's Champions League, after a convincing 3:0 first-leg home victory over Georgian side Tornado Kutaisi on Wednesday evening. Sparta got two goals in the first twenty minutes, both coming from Miroslav Baranek, who recently returned to the club after two years at Germany's Cologne; the third was scored by substitute Michal Pospisil fifteen minutes from time. The man who set up the second goal, Lukas Zelenka, had this to say after the game.
"It was really hard for us. Thank God it was two-nil at half time, even though we could have got a few more goals. Our third goal was terribly important, because they came close a couple of times in the first half. Three-nil is a great result going into the second leg, and I think it'll be enough to see us through."
And the second leg takes place in a week's time.
Staying with European competitions, Teplice now have little chance of going through to the final of the Intertoto Cup, after losing 5:1 away to Bologna in the first leg of their semi final on Wednesday. Again the second leg is next week.
In the Czech league, title hopefuls Slavia Prague did not have the ideal start to the season, when they only managed a 1:1 draw at home to Hradec Kralove on Monday. It was Radek Bejbl's first game for Slavia after six years abroad; Bejbl, Sparta's Karel Poborsky and Jiri Nemec of Blsany have been receiving a huge amount of attention in the sports pages - all three were in the Czech side which reached the final of Euro 96 and have recently returned to the Czech league. By the way, Slavia have also just signed a player from Brazil, striker Adauto da Silva. The only other Brazilian in the Czech League is Pribram's Fabio Gomes.
And Czech football has been rocked by a minor drugs scandal. It has been reported that Sparta and several other top clubs give their players the muscle building substance creatine. While some suggest using creatine is harmful, it is not illegal.
The top Czech men's tennis player Jiri Novak has reached the third round at the Toronto Masters by beating Mariano Zabaleta of Argentina 6:1 6:3. After the greatest success of his career when he reached the semi-finals at the Australian Open in January, things have not been going so well for Novak, and he has not got past the semis in any competition this year. Also in the second round at Toronto, Radek Stepanek beat Vince Spadea of the United States 7:6 7:6. In women's tennis, Daja Bedanova crashed out in the second round of the San Diego WTA tournament.
With just five days to go till the European Athletics Championships in Munich, decathlete Roman Sebrle says he has his sights fixed firmly on the gold. Sebrle, who holds the world points record in the sport, has shown good form so far this season, with wins at meetings in Goetzis and Ratingen under his belt. Fellow Czech decathlete Tomas Dvorak will also be in action in Munich, even though he has Achilles problems. Sebrle says he is glad his countryman is taking part, and that Dvorak is at his most dangerous when he is fighting an injury.