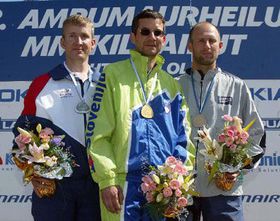 Tomas Jerabek (right), photo: CTK The Czech Republic's rifle team set a new world record in the 300-meter, three position event, at the World shooting championships in Lahti, Finland.
Czech Tomas Jerabek set a new individual world record with 1,178 points and combined for another with team mates Milan Mach and Lubos Opelka - they together got 3,511 points.
The Czechs edged the United States who had to wait for the jury to decide a protest filed by Norway in third place.
The latest results from the UEFA Intertoto Cup second round, second leg matches that were played on Sunday - Sweden's Helsingborg beat the Czech team Synot 2-0 at home, however, Synot won 4-2 overall on aggregate. Another Czech team in the competition, Teplice, defeated Santa Clara from Portugal 4-1, winning 9-2 on aggregate.
The next round to take place on July 31 will be the semi-finals, in which Synot faces French Sochaux, and Teplice will encounter German Kaiserslautern.
Tennis - Czech Klara Koukalova ended second at the Casablanca Open WTA tennis tournament in Morocco on Sunday. Koukalova lost to Patricia Wartusch of Austria 5-7 6-3 6-3. Wartusch, seeded sixth, sought only her second career title after a win in Bogota, Colombia in 2000 and she played her third ever final. Koukalova, who was unseeded, has never won a title and only reached a final once before, at Antwerp in 2001.
Quickly onto men's tennis - Czech Radek Stepanek lost to Spaniard Alex Corretja his 7-5, 6-1 in the semi-finals of Swiss Open on Saturday. The two rivals had to wait for their encounter for more than six hours due to heavy rain.
Now, in European Water Slalom Championships, Olympic champion and gold medal defender Czech Stepanka Hilgertova finished third in the women's kayak singles, her colleague Irena Pavelkova was second.
However successful he has been in forming a government, the new Czech Prime Minister Vladimir Spidla finsished second-to-last in an uphill race which took place on Saturday in Police nad Metuji, East Bohemia. Spidla, who is 51, beat only a 75-year-old man, the oldest runner of more than 100 participants in the five-kilometre race with an altitude difference of 250 metres.
Spidla says he runs about 60 kilometres every week but says he was out of shape because of the recent difficult political negotiations. The new Czech Prime Minister dreams of being able to run the international marathon in Paris one day.
Motor racing fans have a reason to mourn as two drivers died over the weekend in two different events. Austrian pilot Frederico Careca died in an accident during a race of historic Formula 1 cars at the racing circuit in Most, North Bohemia on Sunday. Careca won the first round of the international race but in the second, his monopost crashed and went off the track.
Another fatal accident took place on Saturday during the Agropa Pacejov rallye in Olsany, West Bohemia. Co-rider Martin Huml died when driver Petr Berdych hit a tree at full speed with his Subaru Impreza during the fourth speed trial.
And finally, the construction of a new multipurpose arena in Prague which is to host the Ice Hockey World Championships in 2004, is expected to commence in mid-August. Construction was put off recently due to a complaint filed by two owners of neighbouring land. In the meantime, demolition continued of the former heavy engineering plant CKD Lokomotivka to make room for the new giant sports hall.