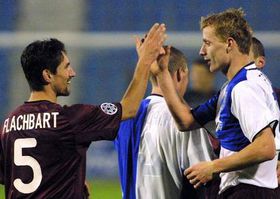 Sparta versus Porto We begin with football, and Sparta Prague must have surprised even themselves by beating the Portuguese side Porto away in the Champions League on Tuesday night. Porto kept the pressure on for long periods of the game but couldn't find a way past the on-form Sparta keeper Petr Cech. The Porto goalie didn't do so well - failing to contain a header from Sparta midfielder Libor Sionko fifteen minutes from time. The final score then - Sparta 1 Porto 0.
That leaves Sparta in second place in their group behind tournament favourites Real Madrid - if Sparta manage to achieve their stated aim of finishing in second place they will then go on to the quarter-finals. And that would be quite an achievement indeed.
Czech footballer Pavel Horvath has left the Istanbul club Galatasaray after just three months. The reason - the club never paid him, not a single lira. Horvath made only a couple of appearances for Galatasaray, and apparently only spoke to the club's Romanian coach twice during his whole time at the club. Perhaps the coach should have done his geography before signing the toothy Czech - he said Horvath's problem was not having a Balkan temperament.
Moving on to ice hockey and following the latest round of the Extraliga on Tuesday Sparta have bounced back to the top spot with a 3:2 win over Havirov - Zlin didn't have much of a chance to enjoy leading the table - they slipped back to second after losing 5:3 to Litvinov.
The Winter Olympics begin in Salt Lake City in just over two months. There has been some questioning of the choice of Jaromir Jagr to captain the Czech ice hockey team. Goaltender Dominik Hasek says however that Jagr is the right man for the job. He'll be a good captain, says the Dominator.
Atheltics now and Czechs Vera Caslavska and Jan Zelezny have resigned from the International Olympic Committee. Caslavska - a former gymnast - said she was quitting due to health problems. Javelin legend Zelezny was one of only 15 active sports people on the committee - he said that committee work was too time-consuming and he wanted to concentrate on competing. Their resignations mean that there are now no Czechs on the Olympic movement's ruling body.