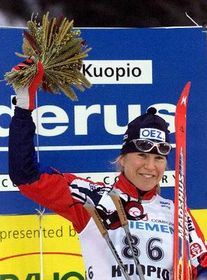 Skier Katerina Neumannova, photo CTK It's not long now till the Salt Lake City Winter Olympics - two and a half months to be precise - and as the games get closer, interest in winter sports is mounting by the week in the Czech Republic.
One Czech athlete whose preparations for Salt Lake City are going well is skier Katerina Neumannova - she came first in the five kilometre free event at the Cross Country World Cup in Finland on Sunday. It was her fifth World Cup gold. What's more, Neumannova won the title on her name-day - Czechs mark their name day - usually a saint's day - and yesterday was the turn of all Katerinas to celebrate.
In the men's 10 kilometre free race, Lukas Bauer came in fourth, while Martin Koukal was seventh. No medals then for the Czech men, but both skiers did way better than expected and their placings are being seen as something of a success.
Moving on to ice hockey, Jaromir Jagr is to captain the Czech team at the Winter Olympics, coach Josef August said at the end of last week. August made the announcement while on a scouting tour of Canada and the US to watch Czech NHL players. Questions have been asked however about Jagr's talents as captain - some say he could be just like football captain Pavel Nedved - a fantastic player but not necessarily a great team leader.
Football now and Sparta captain and Czech international defender Jiri Novotny played his 350th game for Sparta at the weekend. The all-time Czech record is 465 starts and if Novotny, who is 31, stays at the club he could well beat it. He already holds the Czech medals record with 13.
Sparta are top of the Gambrinus League at the half way stage in the season with 15 games played - they beat Synot 3: 1 on Sunday. Second placed Viktoria Zizkov beat Slavia 1:0 in what is known as a small Prague derby - the big one is Slavia-Sparta. And third placed Bohemians went down 3:2 away to Liberec, who are fourth.
On Thursday, Liberec beat Real Mallorca 3:1 at home in the first leg of their UEFA Cup tie - the snowy conditions can't have been at all pleasant for the Spanish side. The second leg takes place in Mallorca on December 6. You may remember that in last year's UEFA Cup Liberec gave eventual winners Liverpool quite a run for their money, losing 4:2 on aggregate.
And finally, the Czech Paralympian of the Year was announced on Sunday night. Wheelchair-bound Roman Musil - who competes in the javelin and discus - won the award for the second year in a row. The award goes with the prize of a car - Musil said he didn't need a second one and immediately gave it to the paralympian who came second in the poll, sprinter Margareta Trnkova, who is deaf. Musil therefore also wins the Radio Prague award for niceness beyond the call of duty - respect.