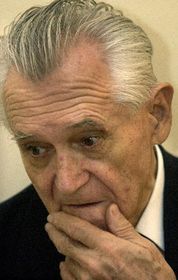 Karel Hoffman, Photo: CTK All the dailies lead with the court case of the former communist official Karel Hoffman who was sentenced to four years in prison by a Prague court yesterday for his part in crushing the 1968 reform movement in Czechoslovakia by the armies of the Warsaw Pact. LIDOVE NOVINY, MLADA FRONTA DNES and HOSPODARSKE NOVINY are using an almost identical headline: "First person sentenced for August 1968".
MLADA FRONTA DNES and LIDOVE NOVINY each dedicate a whole page to the story. MLADA FRONTA DNES explains that Karel Hoffman is the first person to be sentenced for the tragic night in August 1968, almost thirty-five years after the invasion of Czechoslovakia in which Soviet troops terminated Czechoslovakia's efforts to become a freer and more independent state.
According to the verdict, Karel Hoffman, who is almost eighty now, abused his position as head of telecommunications in 1968 when he ordered Czechoslovak Radio to go off the air, and thus prevented the Central Committee of the Communist Party from telling the public they condemned the invasion, write MLADA FRONTA DNES and LIDOVE NOVINY.
PRAVO reports that some members of the current Communist Party want the party's deputy chairman Jiri Dolejs to step down because of his open declaration that he will vote "yes" in the upcoming referendum on EU accession. The communist leadership has recommended to its members and supporters to say "no" in the polls this coming weekend. Mr Dolejs recently told the daily PRAVO that his stance was not unique within the party and that especially younger members with higher education, who have therefore a better chance to adapt to social and economic changes, share his position on the Czech Republic's joining the European Union.
However, President Vaclav Klaus is less open concerning how he himself will vote this week. The editorial comment in LIDOVE NOVINY says that Mr Klaus has always maintained his views are consistent and if we search in the archives for his statements regarding EU accession, we will find views such as "EU accession is a national interest of the Czech Republic", or "I signed the Czech application to join the union."
So why is President Klaus so reluctant now to tell us how he is going to vote, asks the editorial in LIDOVE NOVINY. If Vaclav Klaus has not changed his opinion, he should not have problems repeating his "yes" openly before the public. And if the situation has changed since the time when Mr Klaus uttered those statements and he has altered his stance, then the reason to publicise his view is even more important, writes LIDOVE NOVINY.
MLADA FRONTA DNES reports that university teachers went on strike yesterday for the first time ever to demand higher salaries. Teachers at the Palacky University in Olomouc staged a one-hour protest strike and were joined by their colleagues at two faculties in Prague. They say their wages are lower than those of primary school teachers and most university teachers are forced to have two jobs to make ends meet.
MLADA FRONTA DNES writes that Education Minister Petra Buzkova accepted the invitation of the Olomouc protesters and came to the city yesterday. Ms Buzkova has drafted a reform of the financing of public universities and if she succeeds to push her reform in the government, universities should be granted an additional 5.2 billion crowns next year, which should also reflect on the teachers' salaries. If the reform fails, some Olomouc teachers threaten to strike in earnest in September, MLADA FRONTA DNES writes.