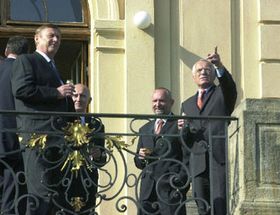 Chateau in Lany, Photo: CTK A mix of headlines and photos on the front pages today - LIDOVE NOVINY features a picture of two men with a lot to smile about: President Vaclav Klaus, and Communist Party leader Miroslav Grebenicek, pictured holding glasses of wine on the balcony of the presidential chateau in Lany. While Mr Klaus's popularity is rising almost on a daily basis, Mr Grebenicek was invited to attend cross-party talks hosted by President Klaus on the EU - the first time a Communist Party leader has received such an invitation from the president since 1989.
It's a meeting which has drawn some degree of criticism. Former President Havel always refused to talk to the Communists, but his successor has made it clear that it's time for them to come in from the cold. "Klaus fulfils promise - Communist isolation drawing to an end" reads the headline in LIDOVE NOVINY, referring to the fact that Mr Klaus was elected with the help of Communist votes.
But Mr Grebenicek was at pains to stress there was nothing out of the ordinary about the meeting or his presence at it. "I behaved exactly the same as all the other party leaders" he tells LIDOVE NOVINY, and also claims the Communists are broadly in favour of European integration, the theme of Wednesday's talks. His is the only party telling its voters to say "NO" to the EU in June's referendum.
MLADA FRONTA DNES reports today that Prime Minister Vladimir Spidla found himself in an unusual role this week - as a tour guide in his own office. The Cabinet Office threw open its doors to the public on Thursday - a national holiday - and among the attractions on display to the eager visitors was the prime minister himself.
The paper shows a smiling Mr Spidla standing behind the big oval table in the cabinet meeting room, as people queued up to shake his hand. And with that EU referendum coming up in just a few weeks' time, Mr Spidla took the opportunity to tell his citizens to say "YES" to joining the EU, says the paper.
Meanwhile MLADA FRONTA DNES also carries details of an extraordinary ad campaign to promote a beer called "Cerna Hora", or "Black Mountain" in English. As part of the campaign, the brewery produced special beer mats featuring a crossword with various clues to do with the colour black. The correct answer to one of those clues was the word "nigger".
"There's absolutely no hint of racism in the campaign," claims the brewery's director Ivo Storek. "Of course the term 'nigger' would be offensive if I shouted it at someone. But as an expression written down on paper it's OK," he tells the paper, adding that the brewery was not planning to withdraw the beer mats. The police, says MLADA FRONTA DNES, are unlikely to press criminal charges, and would probably treat the matter as a misdemeanour.