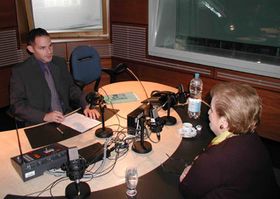 We hear again parts of an enthralling interview with Suzanne Medas, a British citizen of German-Czech-Jewish descent who escaped Nazi-occupied Prague as a teenage girl, but was forced to leave her parents behind.
There's also another chance to meet Graham Melville-Mason, head of Britain's Dvorak Society for Czech and Slovak music and the only non-Czech member of the artistic board of the Prague Spring International Music Festival.
Eva Novakova, the daughter of late Radio Prague broadcaster Olga Szantova, recalls her mother's bravery in 1968. We also talk to Jaroslav Rudis, the author of an imaginative comic series titled "White Brook", while renowned British writer and journalist Neal Ascherson shares with us his most vivid memories of the Soviet Invasion.
Martin Stepanek, holder of a world record in free-diving, describes the bliss of being deep beneath the sea, while Mimi Nguyen, a 26-year-old Vietnamese student living here for more than 10 years offers an unusual insight into the Czech Republic's Vietnamese community. And Jan Cermak recalls translating the Old English epic poem Beowulf in his head as he pushed a pram around Prague.