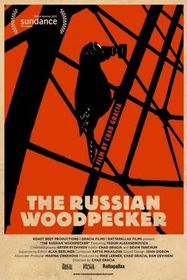 Hello and welcome to Mailbox, Radio Prague's monthly programme for your questions and comments.
First up we have some good news for our listeners in North America who follow our programmes the old-fashioned way – on their shortwave radios.
Since the end of last year listeners in the West of the United States and Canada can tune in to Radio Prague's broadcasts on Radio Miami relayed via the WRMI transmitter in Okeechobee, Florida on the frequency 5850 kHz. Many thanks for all the reception reports coming our way.
And speaking of transmitters, this e-mail was sent to us by Vladimir Gudzenko from Russia:
"First of all, I'd like to refer to your report by Ian Willoughby at Radio Prague's Current Affairs section of March 13, dedicated to the famous film 'The Russian Woodpecker". In the early 1980's, I heard on Radio Sweden's 'Sweden Calling DXers" a report on a mysterious Soviet transmitter, which launched the extremely powerful signals on short waves, which, as they said, made impossible the reception of short wave radio stations. Then, radio listeners and DXers from the free world named it the 'Russian Woodpecker', according to the characteristic snaps resembling a woodpecker.
"Now the information on that mysterious project is partly disclosed, and we learned that this Soviet radar was built in order to investigate the foreign missiles at the air borders of the Soviet Union, by radio-location. The internet contains information that at least three such constructions were built in the former Soviet empire: one in Chernobyl-2 secret town, another one near Mykolayiv, in the Southern Ukraine, and the third one near Komsomolsk on the Amur, in the Russian Far East.
"Now, after the Chernobyl catastrophe, the site can be visited by reckless people. The antennas, which are enormous indeed, are situated only nine kilometers from the exploded Chernobyl reactor. Ukrainian and American producers have made a film entitled 'The Russian Woodpecker'."
Also, we received this complaint from our faithful listener Sola Agboola from Nigeria:
"I am pleased to acknowledge the receipt of a prize that you sent to me [see the attached letter]. However, I wish to remind you that I won 2 prizes and not 1. I won the monthly quiz for October 2015. I also won the Mailbox quiz for February 2016."
According to our records, the first parcel was mailed on November 2nd 2015 and the second one on March 1st. Unfortunately, we cannot afford to send everything by registered post and from time to time our mail does get lost on the way. However, a new parcel is now in the post and we apologize for the inconvenience.
And now onto our monthly quiz. Simon Fisher from the UK sent us a brief answer: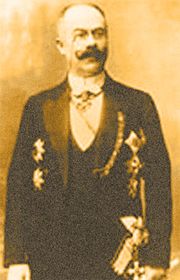 Emil Jellinek, photo: CC BY-SA 3.0 "Adolf Jellinek was born in Moravia, who had a son Emil Jellinek, whose daughter provided the name Mercedes for the car of the same name."
Vladimir Gudzenko from Russia elaborated a little more:
"The creator of the world famous automobile trade mark Mercedes was Emil Jellinek, a citizen of Austria-Hungary of Czech-Moravian origin. Emil Jellinek was a wealthy European automobile entrepreneur, then a diplomat. In 1900, he introduced a modern car – the Mercedes 35hp. Jellinek created the Mercedes trade mark in 1902, naming the cars after his daughter. His daughter, Mercedes Jellinek, died at the age of 39, of bone cancer and tuberculosis. Emil Jellinek was the son of Adolf Jellinek, the Vienna rabbi, born in Drslavice, near Uherské Hradištĕ in Moravia, now the Czech Republic."
Hari Madugula From India wrote:
"Jellinek created the Mercedes trademark in 1902, naming the cars after his daughter, the trademark developed into the term Mercedes-Benz, and is now among the largest car brands in the world. Jellinek lived in Vienna, Austria but later moved to Nice on the French Riviera, where he was the General Consul to Austria-Hungary. Jellinek was born in Leipzig, Germany, the son of Dr Adolf Jellinek. In 1870, when Emil Jellinek was 17, his parents found him a job as a clerk in a Moravian Railway Company, Rot-Koestelec North-Western. Jellinek lasted two years at this company before being sacked when the management discovered that he had been organising train races late at night."
Chun-quan Meng from China writes:
"Emil Jellinek, a rich European automobile entrepreneur, made great contributions in 1900 to the introduction of the first 'modern' car, the Mercedes 35hp. In 1902, his Mercedes trademark was officially registered, which is named after his beautiful daughter. "
This answer titled "A man took his daughter's name" is from Hans Verner Lollike from Denmark:
"In his first marriage he had two daughters, Rachel and Mercedes Jellinek. Rachel died 4 years old, and that made Emil Jellinek believe that the name Mercedes was lucky, since his daughter with that name survived. Emil Jellinek was a car-freak with great knowledge on the technical side, working with Daimler Motor Company in Germany he had success in developing a motor that made cars run fast and win races. The car was called Mercedes-Benz in 1902, and that became a trademark. His daughter, Mercedes Jellinek, had a tragic life with two failed marriages and died at 39 years old."
Rajendra Kumar from India wrote:
"The world famous German car brand name Mercedes trade mark was created by Emil Jellinek. His father was a famous Czech Hungarian rabbi and intellectual. He worked as a clerk in Moravian Railway company named Rot-Koestelec North-Western for two years."
Arne Timm from Estonia wrote:
"Emil's father was Rabbi Adolf Jellinek of Drslavice, Moravia. Jellinek was wealthy European entrepreneur who sat on the board of Daimler-Motoren-Gesellschaft in 1900 - 1909. He specified an engine designed there by Wilhelm Maybach and Gottlieb Daimler for the first 'modern' car.
And finally Mary Lou Krenek from the United States writes: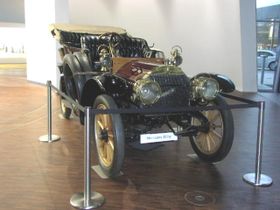 Mercedes 35hp, photo: MartinHansV / Public Domain "Jellinek's automobile business grew. He came to an agreement in 1900 by promising the large sum of 550,000 Goldmark if Wilhelm Maybach would design a revolutionary sports car for him to be called Mercedes of which 36 units had to be delivered before October15. ... Over the next few months, Jellinek oversaw the development of the new car at first by daily telegrams and later by traveling to Stuttgart. In 1901, the car amazed the automobile world. Jellinek won the Nice races. The records set by the new Mercedes amazed the entire automobile world. DMG's sales shot up, filling its Stuttgart plant to full capacity and consolidating its future as a car making company.
"Jellinek's later life was filled with chaos. He was charged for taxes on his properties and was arrested. He died in Geneva, Switzerland on January 21, 1918 at the age of 64. All of his French properties were later forfeited. Since 1982, his remains have rested near Rachel, his first wife's tomb, in Nice's Catholic Cemetery."
Thank you very much for all your answers. This time our prize goes to John Rutledge from the United States. Congratulations and your parcel is in the post. For those of you who haven't been lucky this time, here's a brand new mystery person with a Czech connection.
This month we would like to know the name of the printmaker, painter and sculptor, who was born in 1923 in Český Těšín. She fled the country in 1939, moved to Paris and subsequently to New York in 1941. She passed away on March 1st in Paris.
If you'd like to take part in our quiz, your answers need to reach us by April 20th at the usual address, english@radio.cz. We are looking forward to your comments as well as reception reports. Mailbox will be back in four weeks' time. Until then, happy listening and take care.