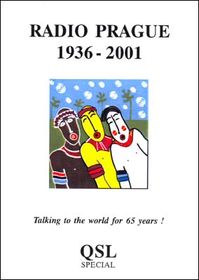 Hello and welcome to Mailbox, Radio Prague's regular programme for your views, comments and questions.
We are always pleased to hear from our old-time listeners who haven't been in touch for a while, such as Eamonn Halliday from Scotland:
"I was for many years a member of the Radio Praha monitor club during the socialist times. I remember coming to Praha to do some studio interviews in your English department in Vinohradská. I met many nice people like Vladimir Feldman Alena Škodová, Radek Vanke and Libor Kubík. I am glad that Daniela Lazarová is still with you.
"Finally, I just want to say that Radio Praha was a big part of my life as I tuned in to your English broadcasts every evening."
Thank you for getting in touch with us and a copy of the booklet "Radio Prague – 65 years on the air" by Radio Prague's Miroslav Krupička that you requested is in the post.
In his reception report Jayanta Chakrabarty from India included a comment on a recent story on Radio Prague:
"I enjoyed the feature article entitled 'Scandal-prone Czech Health Care System'. It was a brilliant piece of write-up giving a clear unbiased picture of the present state of health care system in the Czech Republic – considered one of the best in Central Europe. The article was most articulate and open in exposing the shortcomings of the health sector of the country. Czech Republic's Finance Minister Andrej Babiš described this vital social service sector as a 'black hole' sucking the taxpayers' money while rendering inefficient services. While evaluating whether the health sector is giving good value for money it has been alleged that frequent scandals in regional management, deficient hospital services, money laundering in health insurance and health insurance cover and inflated bills in the purchase of equipment and drugs leave much to be desired."
František Kada from the Czech Republic sent us this e-mail commenting on our March mystery Czech quiz and the personality of Czech designer František Kardaus.
"Thank you for disseminating knowledge of the Czech graphic artist František Kardaus among the listeners of Czech Radio's international service. I was delighted by their interest and the number of visitors of his profile on the internet is, also thanks to them, coming close to 40,000. Keep up the good work!"
And now onto our current quiz. Hans Verner Lollike from Denmark writes:
"The author and painter, Adalbert Stifter, who was born in 1805 in the village of Horní Planá, now in the Czech Republic, and died in 1868 in the Austrian city of Linz, is the person you are looking for. He was born into a wealthy German speaking family, and studied law in Vienna. He was a multitalented artist, who would like to express beauty and moral standards in his works, but ended his life in depression. As so often, great artists have a strange destiny."
This answer is from Jahangir Alam from Bangladesh:
"This time I think you are looking for Adalbert Stifter, an Austrian novelist, poet and painter who actually studied law, mathematics and science. In his childhood he spent a long time in the Bohemian Forest. He later depicted his life in nature and forest in his novels and paintings. Although he had not got any training in oil painting, he was a master of art. His remarkable novels include Studien, Berkristall, Der Nachsommer etc. His life ended tragically, he cut his own throat with a sharp blade, while he was suffering from cancer."
Jayanta Chakrabarty from India wrote:
"Born in Oberplan (now Horní Plana in the Czech Republic), Adalbert Stifter was an illustrious painter, writer, poet and educator by his own rights. With no formal training in oil painting he excelled in painting vivid natural landscapes being largely influenced by the Bohemian Forest and great artists like Friedrich Gauermann. In his later years he developed an independent style of his own capturing the fleeting moods of nature as depicted in his masterpiece 'Villa at Neuwaldwegg'.
"His full stature as a writer remained confined to the German-speaking population until the end of the First World War. Literary works like 'Witiko' and 'Die Narrenburg' among others, won international acclaim. Another notable gem of literature is 'Der Nachsommer' (Indian Summer). Here Stifter used humanism to create bourgeois realism while describing the journey of an idealistic sheltered youth from childhood to maturity.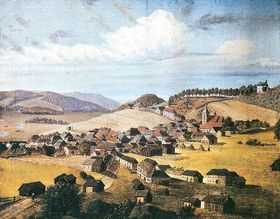 Horní Planá by Adalbert Stifter "As a human being, Adalbert Stifter was remarkably transparent and gentle with a natural deliberate style in outlook and aims. He was known for his integrity of vision and rejection of violence - being highly moved by the 1848 Austro-Hungarian Revolution. His emphasis on the natural processes of growth and high sensitive perception of nature found reflection in his landscapes and stories. An educator by nature whose instrument was his art. This beloved son of the Czech lands died a self-inflicted cruel end."
This answer is from Colin Law from New Zealand:
"Adalbert was the eldest son of Johann Stifter, a wealthy linen weaver, and his wife, Magdalene. Grandfather Augustin Stifter took him for walks in the country and told him local legends and his grandmother Ursula would have told him the local superstitions and the wonders of nature. Inevitably much of this stirred his imagination and showed through in his writing and painting in later life.
"From 1840 Adalbert published short stories in newspapers and almanacs and after he revised them 1844 they appeared under the title 'Studien" in the Gustav Heckenast Press in Budapest. In 1848, the year of revolution, he moved to Linz, where from 1850 he was chief inspector of elementary schools, curator and founder of the Upper Austrian gallery and co-founder of the Realschule in Linz, a high school which in later years counted Adolf Hitler among its pupils.
"Adalbert's collection of stories, 'Bunte Steine" (Coloured Stones) was published in 1853 and in 1857 his Bildungsroman, ' Der Nachsommer" (Indian Summer), from 1865 to 1867, a historical novel 'Witiko". In the same period he worked on a novel 'Die Mappe meines Urgroßvaters" (My Great-Grandfather's Briefcase). Through all of this period he continued his painting and sketching.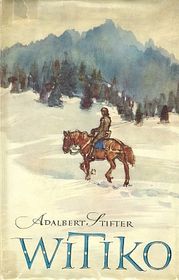 "Adalbert fell ill in 1863, with cirrhosis of the liver, which progressively weakened him. He fell into deep depression and on the night of 25 January 1868 he slashed his throat with a razor and as a result he died on January 28th."
Sri Debaki Ranjan Biswas from India wrote:
"He is Adalbert Stifter, principally a pedagogue, but also famous as a poet, painter and a narrative novelist. He was a classical novel writer mostly being interested in the sagas of the humble virtues of a simple life. During his childhood Stifter was greatly influenced by the nostalgic countryside.
"He started studying law in Vienna but soon left the arena without earning a degree as his inner soul's interests were elsewhere in the worlds of science and teaching. During the years of the European revolution, also known as ' spring time of nations ' he became deeply involved with the role of an educationist and also served as superintendent of schools. Some of his great novels wherein he portrayed the inner unity of landscapes and people as well as the ideal life experienced by him are 'Der Condor', 'Studien', 'Bunte Steine', 'Feld Blumen' and 'Der Nuchsommer',etc.
"Stifter tried to depict through his novels as to how the world would look like if the unpredictable tensions among human beings, society and nature could somehow be resolved. Life of this ardent soldier of the human struggle for a just and peaceful order came to a tragic end at an early age of 61 at Linz, Austria, on 28th of January 1868."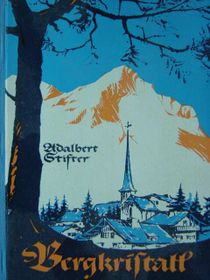 And Valery Lugovskiy from Belarus writes:
"Your new hero is Adalbert Stifter, whose biography and whose 'The Story of the Forest in Ice' I'm reading at the moment."
Thank you for your answers and this time we are sending the Radio Prague prize to Colin Law from New Zealand. Congratulations! Here is a brand new mystery man for the coming weeks:
We are looking for the name of the Prague-born author and illustrator who left Czechoslovakia in the wake of the 1948 Communist takeover. He became best known for his award-winning travel books for children. He died in 1980 in the Swiss town of Wettingen.
Please send us your answers by July 9th to the usual address, english@radio.cz. We are also looking forward to your reception reports, questions and comments. Until next time, thanks for listening and take care.