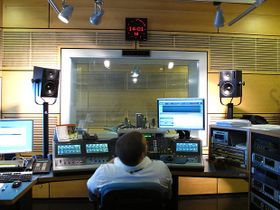 Photo: archive of Radio Prague Hello and welcome to Mailbox, Radio Prague's monthly programme for your questions, views and comments. Thank you very much for those – as well as your reception reports. We are always pleased if you include a personal note. This one is from our long time faithful listener Jayanta Chakrabarty from India:
"Radio Prague has become one of my favourite radio stations. My family members consisting of my wife, mother and son also enjoy your programmes which have a great variety and are suitable for all people of different age groups and tastes. I would like to send my appreciation to all the staff members of the English Service for all their hard work and efforts in making Radio Prague so attractive, informative and enjoyable for your worldwide listeners. Please keep up the good work.
"As an administrator in the government and an economist, I closely follow the latest developments in the economic, socio-political, cultural and scientific and technological fields taking place in the Czech Republic. Radio Prague is an important source of information and entertainment."
Thank you so much for those kind words, Mr. Chakrabarty, as well as your regular contributions to Mailbox.
And as for the rest of our audience – why do you listen to Radio Prague and what kind of information do you find most interesting and useful – please let us know at english@radio.cz or on our Facebook page.
Syed Khizar Hayat Shah from Pakistan sent in this request:
"I listen to your programme regularly. Could you please send me your radio station signature tune for my collection and assignment of my wife who is studying Mass Communication? I have already done my Master's in Mass Communication at the Federal Urdu University of Arts, Science and Technology Karachi. I hope you will fulfil my request."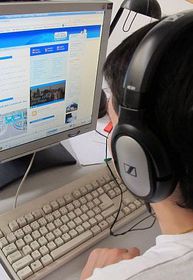 Photo: archive of Radio Prague Thank you for your interest in our station. Radio Prague's signature tune features at the beginning of each of our internet broadcasts. If you click on 'Broadcast in English' on the right-hand side of our homepage, you'll hear it within seconds.
Before we get to our monthly mystery Czech quiz, I'd like to remind you that you only have until tomorrow to send us your Czech-related photos if you'd like to win a trip to Prague for two in our competition called My Czech Story which Radio Prague is running together with CzechTourism.
All you need to do is upload a photograph which tells "your" Czech story. It can be a snapshot from your trip to Prague, a picture of your favourite Czech product or a Czech pub in your neighbourhood – anything related to the culture, history and spirit of the Czech Republic.
The image needs to have a title or brief description and should be uploaded to our website no later than September 30th, 2013.
The winner will get a 3-day trip to Prague for two, including the cost of plane tickets. Nine runners-up will receive smaller gifts. You will find the rules of the competition including the link to the upload page here (www.radio.cz/my-czech-story/en/conditions).
And as promised, here are your answers to last month's listeners' quiz.
Valery Luhouski from Belarus writes:
"Terezie Stolzová or Teresa Stolz was a Czech soprano. She studied at the Prague Conservatory. She made her debut in 1857 in Tiflis. She was recognized as one of the best Verdi singers and was his close friend and inspirer. Giuseppe Verdi was fascinated by her youth, talent and strength of character. I could not find any recordings of Stolz's voice, even though the phonograph had been invented by the end of her career. So I decided to honor the singer by listening to Amneris with a modern edge and try to imagine the singing of the great Czech singer."
Hans Verner Lollike from Denmark wrote:
"The person you are looking for is opera singer Teresa Stolz. She was born on 2 June 1834 in Kostelec nad Labem, Bohemia, and died on 23 August 1902 in Milan, Italy. She studied in Prague and spent most of her career in Italy. Her private life was a little complicated, but she was asked to sing important opera parts in London, Paris and Berlin and the La Scala in Milan."
Soutik Hati from India sent us this answer:
"This month's mystery person is Teresa Stolz. The Bohemian soprano was born on 2 June in 1834 at Kostelec nad Labem. She first performed in Tiflis in 1857 and first appeared in Turin in 1864. After that she was performing regularly from 1865 to 1877 at la Scala in Milan. She created the role of Leonora in a revised version of Verdi's 'la Forza Deldestino' in Milan on 27th February 1869. She sang in the role of Aida in Italy on 8 February, 1872. A memorial hall in Kostelec is named after her."
Chun-quan Meng from China wrote:
The mysterious big figure is: Teresa Stolz. She has been described as the 'Verdian dramatic soprano par excellence, powerful, passionate in utterance, but dignified in manner and secure in tone and control'.
And finally Charles Konecny from Ohio writes:
"After music studies in Prague, Stolz left for the world of opera and concerts. As a soprano Teresa rose to the top of her profession and appeared in many operatic title roles at the great music halls of Europe. She is especially noted for her work with the renowned Verdi. While her public life could be hectic, her private life seemed to be intense as she was romantically involved with various conductors and composers including Verdi in complicated scenarios. But what goes around, comes around, and after Verdi's wife died, Teresa became Verdi's companion for the last few years of her life."
Thank you for your answers and this time the Radio Prague prize goes to Simon Fisher from the United Kingdom. Congratulations! And a new question follows:
In October we would like to know the name of the Canadian sexologist, born in the town of Chrudim in 1914, who devoted his career to research into human paraphilias and developed the scientific method of phallometry.
Please send us your answers by October 23 to the usual address english@radio.cz which is also the address for your questions, comments and reception reports. Mailbox will be back in four weeks' time. Until then happy listening.