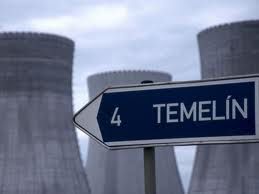 Hello and welcome to Mailbox. Another four weeks has gone by which means it's time to reveal the mystery person from last month. But first let's go through the mail.
Andrew H. Dral from the United States responds to an older story on the Czech energy firm ČEZ getting bids for the expansion of the Temelín nuclear plant.
"Are the Czech people losing their minds? Are they going crazy, just nuts? The goal to expand nuclear power from the current 30% nuclear reliance to 50% by 2030 is insane. It completely boggles the mind. Didn't you just see what happened in Japan with Fukushima, the Tsunami? Do you remember Three-Mile-Island in the U.S. and Chernobyl in Russia? It takes years for the full poisoning and toxic effects of radioactive exposure to result in death, particularly radioactive particulate sucked into the lungs. It takes 15 to 30 years before people start to show the effects of the exposure and then die horrible deaths.
And Andrew also comments on the former US Secretary of State Madeleine Albright opening a new branch of the Aspen Institute in Prague.
"I just wanted to let you know that Madeleine Albright will pressure and lobby your government to implement neo-liberal policies for the benefit of the elite, rich, and top-1%. The policies from Ms. Albright will work to destroy the middle-class in the Czech Republic and put more workers in poverty. This is what think-tanks in the U.S.A do, they work for the benefit of the plutocracy, not the common working people."
Thank you for your comments as well as reception reports and now it's time for our competition question. Paul R Peacock from Australia sent us this answer:
"Jan Josef Václav Antonín František Karel hrabě Radecký z Radče is the Bohemian nobleman and Austrian General you seek. Born 2nd November 1766 he was in the military for over 70 years until aged 90, dying at the age of 91 in 1858. He is buried beneath an obelisk in Heldenberg.
"He was involved in a number of 'battles' earning praise for his tactical skills. In 1836 at the age of 70, he became a Field Marshall. His courage was praised in folk songs but he also had The Radetsky March dedicated to him by Johann Strauss I. in 1848. It became a very popular march among soldiers and is just as popular today as it was over 200 years ago.
Ian Morrison writes from China:
"The Radetzky March is a very lively piece of music that I can't help tapping my toes to whenever I hear. In fact, here in China, the Radetzky March is often played as the encore to classical music concerts, and generally most of the audience can't help but applaud along to this lively tune. It's one of my favorite pieces of music."
Also from China, this answer was sent in by Chun-quan Meng:
"The mystery person must be: Joseph Radetzky von Radetz, who was in the military for over 70 years, and is known for the victories at the Battles of Custoza and Novara during the First Italian War of Independence."
Colin Law from New Zealand writes:
"Josef spent a year at the Theresa Academy in Vienna before joining the Austrian army as a Cadet. At the age of 20 he became an officer and at 21 was promoted to first lieutenant. He served as a galloper in the Turkish War, and in the Austrian Netherlands from 1792 to 1795 when he fought on the Rhine. In 1796 he fought against Napoleon in Italy.
"In 1805 Radecký was promoted to major-general and 1809 saw him promoted to lieutenant field marshal. He became a Commander of the Order of Maria Theresa in 1810 and by 1829 he was General of the Cavalry. His military career reached a peak in 1836 when he was promoted to Field-Marshal. ..Radecký continued to serve in the army - the only life he knew. But at the age of 91 his health had deteriorated and h e died on January 5, 1858 after an accident in Milan and was buried in Heldenberg in Lower Austria on January 19, 1858."
Charles Konecny from the USA writes:
"Radetzky was born into Czech nobility and found his calling in being a consummate military man in the Austrian Army. His over 70 years of service and being in active command until 90 must be some sort of record (living to 91 years helps). He fought in many battles including the Napoleonic Wars (he took several bullets in one campaign) and later in northern Italy when Italian nationals did not want the Habsburgs around anymore. He not only crushed the rebellion but he was able to keep the peace after. Things went downhill only after he was relieved of command. So he had a stellar military career, awarded many medals, loved by his troops, and was called a hero. And of course, Johann Strauss awarded him also. It could be that Redetzky would feel that the 'March'...was his finest honor.
"Public TV usually carries the Vienna Philharmonic' New Year's concert here. The Radetzky March is always a favorite."
Thank you very much for your answers and our little prize goes to Xiu-ping Qian from China. Congratulations! The rest of you can give it another try with this brand new question:
This month we are looking for the name of the British civil engineer who designed and oversaw the building of a sophisticated sewage system in Prague at the turn of the 19th century, much of which is still in use today.
Please send us your answers by October 16 to english@radio.cz along with your questions or comments. Before I sign off, here is a question asked by a listener from Texas who says he/she enjoys our "From the Archives" postings:
"Could you please tell me the artist and song title of the very pretty recording that you feature in the opening moments of your 'From The Archives' episodes?"
The tune by the Czech composer Jaroslav Ježek is called "Ezop a brabenec" or "Aesop and an Ant" and was featured for the first time in the 1931 Czech film "Pudr a benzín" or "Powder and Petrol". Thank you for tuning in and until the next edition of Mailbox, happy listening.