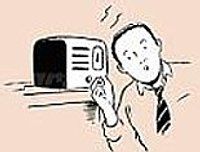 Hello and welcome to Mailbox, Radio Prague's weekly programme in which we read from our listeners' letters and e-mails.
This one came from our listener Christopher Lewis who lives in England.
"Dear Radio Prague, I noticed in the past few days, that while you have a clear signal on shortwave, the audio is terribly muddy and poor. It has only sounded like this for a few days. I don't think that this is a shortwave reception problem, maybe a transmitter fault?"
I forwarded the e-mail to the head of Radio Prague's technical department Martin Sebek. He told me he was monitoring the outgoing programmes regularly and did not notice any problems in the sound quality. So it appears that the problem is not at our end but we'll keep monitoring it. Thanks very much for telling us, Christopher, - and please if anyone else has noticed any problems in the sound quality of our broadcasts, be it in the United Kingdom or elsewhere, do let us know and we'll see what can be done about it.
Our listener John Boone, who's of Czech descent, has a question about our ABC of Czech programme:
"I enjoy your programming with the ABC's of Czech but I would like it more if you could have a downloadable file of the sound file in MP3 format. So that I can listen to it whenever, wherever... I know how to convert the audio file to MP3 but would love it if it were already in an MP3 format, making it easier to print and save MP3 files for aid in learning Czech. Also I would like to hear more Czech in the programme as well but I am grateful for what is there."
To answer John Boone's first question - I spoke to Radio Prague's internet department about the possibility of having the ABC episodes available also in MP3 on our website. They said it certainly would be possible. They have started working on it but they say it will take some time. So please be patient with us. To answer the second question: Radio Prague also broadcasts in Czech, so if you'd like to practice your Czech more thoroughly, you can give it a try. The programme schedule is available on our internet site, www.radio.cz or you can write to us to English@radio.cz or to our postal address Vinohradska 12, 12099 Prague, Czech Republic and we'll send you a printed version of our programme schedule.

Otakar Jeremias To change the subject, Edward Turnbull from England, sent us this request:
"Can you perhaps play a fragment of any work by your distinguished 19-20th century conductor/composer Otakar Jeremias? Didn't he write the Spring Overture? And was not his father a distinguished composer also?"
That's quite right. Otakar Jeremias was born in 1892, the son of composer Bohuslav Jeremias. He studied composition at the Prague Conservatory and also learned to play the piano and cello. Until 1928 he was a music teacher and director of a music school in the town of Ceske Budejovice and in January 1929 he became conductor of the Czechoslovak Radio's orchestra, known as the Prague Radio Symphony Orchestra. (You can find out more about Otakar Jeremias and his cooperation with the Prague Radio Symphony Orchestra at http://www2.rozhlas.cz/socr). Otakar Jeremias remained its chief conductor until 1945 when he became the head of the National Theatre's Opera.
Among his best-known works are the operas The Brothers Karamazov and Enspigl. He also composed many chamber and orchestral pieces, songs for choir and he also wrote music to a number of films. The Spring Overture Mr Turnbull mentioned was written in 1912.
I'm afraid we only have a minute left to repeat the competition question for this month.
"Our mystery man for August was born in 1943 in the Canary Islands to a Spanish mother and a Czech father. Reportedly he was raised on a banana plantation. He began by studying architecture and literature but abandoned his studies after just a year and moved to Paris in 1968. He moved to London two years later where he worked briefly as a photographer and then to New York where he dedicated himself to shoe design. Since the 1970s his shoes have been synonymous with high glamour and are sought after by many famous people, from celebrities to royalty."
Let me remind you that you have only three days left to send us your answers to the usual address, Radio Prague, 12099, Prague, Czech Republic or English@radio.cz. Till next week, thanks for listening.