Yes, it's time for Mailbox, once again and we'll start off with an e-mail from Eva Steffanov, who listens to us in Texas, USA.
"I noticed in your press review on October 3rd that sentences had been passed on four graffiti artists in Prague and that these were the first sprayers who had been punished, even thought 26 similar cases had been dealt with in the past three years since the law on spraying was passed. How come?"
Well, that's because these were the first to be actually caught in the act of spraying, which the law specifies as a condition for punishment.
And even though these four said they would never do it again, there are many who say that punishment is not the best way of dealing with the problem. Some cities have allotted sprayers special places where they can practice their form of art. And in some cities they're going out of their way to get rid of the graffiti within 24 hours, so that the authors see that they have not managed to leave their permanent, or at least their long term marks on the city.
Which is one of the main reasons for graffiti spraying. Many people feel that they should leave a permanent impression to remind the world of their existence, and lacking the ability to do so in any other more significant way, they do this.
And even though there was virtually no graffiti spraying in this country before 1989, there has always been some way in which some people tried to leave their marks as a reminder - take all the engravings on old castle staircases, where some visitors couldn't resist to scratch the masonry so that everybody would know that Jan or Franta had been there on such and such a date.
There's nothing new about that. Last year, when archeologists opened the tomb of an 11th Century Czech king, buried in St.Vitus Cathedral, Bretislav II they found that it had been marked way back in the 16th Century. There are two names scratched into the statue of the king. So, now we know that Leopold Stegmann and somebody who only signed his first name - Vaclav visited the grave in 1560.
And that's not the only instance. Some years ago, when they were repairing the walls of Pernstejn Castle in East Bohemia, that's near the city of Zdiar nad Sazavou, they uncovered a huge number of inscriptions, made with charcoal and various chalks. Those also date back to the 16th Century and include signatures, inscriptions, whole mottoes, even quotations from the Latin poet Ovidius.
Obviously, people were better educated in those days.
Maybe some of them, but there's also a lot of very indecent pictures. But the stress was on the texts, and the inscriptions are much easier to read than nowadays. Most of them are in Czech, which is very interesting from the point of view of language and culture.
Well, maybe one day contemporary graffiti will be interesting for historians, right now it's a nuisance and doesn't do much for the historic sites of Prague and other cities, as some of our listeners who visited Prague have been telling us.
And in connection with listeners' coming here to visit, we've had a number of questions like this one from Simon and Els van Dijk
"An acquaintance of ours would like to visit Prague. He asked us how the situation in Prague is at the moment. Are all Metro-lines operational again, is damage along the Vltava repaired and are restaurants along the quays in Mala Strana etc. doing business as usual, is it worthwhile to visit the Jewish quarter? He wonders if it would be better to come now or next Spring. It is the first time he is going to visit Prague, so it would be a pity if he were disappointed, as Prague is such a beautiful city."
No, your friend will certainly not be disappointed. As far as the visitor is concerned, life is very much back to normal. One or two hotels are closed down, the ones right along the river, where basements were flooded. But otherwise - the museums, including the Jewish Museum are open, and so are the restaurants along the river. Traffic is practically back to normal, even though is some places even more crowded than it was before. Some small parts of the metro are not running, but there are plenty of busses and extra trams to make up for them.
Prague as a tourist centre is fully back to normal, and doing business, with more and more tourists pouring in again, which also answers this question from George Smith of Liverpool, England:
"I am really sorry to hear about all the damage caused by the floods. My wife and I are due to visit in November, could you let me know if visitors are welcome?"
Yes, George, visitors are really more than welcome, in fact the tourist trade is one of the means to get the badly needed funds to repair all the damage caused by the floods.
And there is plenty of that. True, for the vast majority of people, who live in Prague, life is very much back to normal, but it's going to take a long time to undo all the damage. In Karlin, the area most severely hit, over 1000 apartment houses were flooded. Some of them have already had to be pulled down, and at this point, nobody knows how many more of those considered unsafe, will have to come down, too.
The Metro, where it was flooded, needs major repairs and those will come to some 6 billion crowns, that's, roughly, 300 million US dollars (?)
And a number of the smaller theatres have been ruined, parts of libraries, archives and museum deposits were flooded and need repairing.
So, to sum up, it's going to take lots of time and money, before we get over all the consequences, but for the visitor Prague is just exactly what it used to be.
While many other things DO change. To mention just one example, as we keep telling listeners, who remember the old days, when we had Radio Prague listeners' clubs, those no longer exist.
A fact Jaakko Haapamaeki, of Filipstad, Sweden and some other listeners, keep telling us is all wrong.
But, there it is, we just don't have the means, and, consequently, the staff. And so, when we get requests like this one from Mustafa Khalid of Bahawalpur, Pakistan:
"Please give me my membership number as a Radio Prague DX-er"
The answer is, sorry, we do not issue any membership cards. We just welcome any letters and we answer reception reports with QSL cards. We do not have any listeners' clubs.
Which, I hope, is not all that much of a disappointment, and do hope Mustafa will continue listening to our programs, which, he does say, he likes very much. In fact, he says
"Radio Prague is my favourite radio station and I appreciate the work of your hard working and intelligent staff."
Well, thank you - I do hope our bosses are listening! But seriously, we would like to thank all listeners, who have been praising our programs, sometimes adding, as Abdelkarim Ahmed Ali from Surman, Libya does:
"I hope you will extend your programs to a full hour, instead of the half hour."
I'm afraid there's not much chance of that happening in the near future, so that's one wish we cannot fulfil.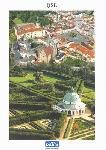 The town of Kroměříž in the south Moravia But we do hope Ed Haraldson from Houston, Texas, USA is listening, because we've had an e-mail from him saying
"Your web site and radio show are some of the too few resources for information about the Czech Republic that are available to me. I particularly enjoy anything about Moravia which is where my ancestors were from and where I still have cousins. Keep up the good work."
Well, Moravia really is one of the most interesting parts of the Czech Republic, with very specific traditions and culture. It's no coincidence that in this year's series of QSL cards showing the UNESCO recognised historic heritages in the Czech Republic, 3 out of the 8 cards are from South Moravia.
And if you don't collect QSLs you can find the pictures on our web-site: www.radio.cz/english, where you can also look up some of the Mailbox programs from the beginning of the year when we talked about each of the sites in our series.