Welcome to Mailbox, which, some listeners say, is one of the most interesting programs on Radio Prague. For example Mick Horsfield of Manchester, England, writes:
"Mailbox is one of my favorites. I like to hear about views from other listeners."
Yes, Mailbox is the program listeners help prepare by writing us about their impressions of Radio Prague and by asking us about life in the Czech Republic.
And we do hear from listeners from all over the world. Many contact us by e-mail, but we still receive many, very many letters. Which brings me to a question from Franz Schwartz Jr of Wilmington, NC, USA who writes that he collects stamps, especially old Czechoslovak stamps and now Czech and Slovak ones. But they have to be cancelled, i.e. stamped. And in that connection he asks
"Does anyone in the English or other language departments at Radio Prague collect postage stamps? What happens to the stamps that are on Radio Prague's incoming mail?"
Well, nobody in the English department collects stamps, and as far as I know, nobody in any other of the departments does, either. So, what happens to all those stamps on listeners' letters? The secretaries cut them out carefully and send them to listeners who write that they collect stamps and are interested in exchanging them. Of course, these are foreign stamps from listeners around the world, we don't get that many letters from within the Czech Republic. But whenever a listeners asks, we put stamps on the envelopes we send them.
Anyway, that's one of the services we provide.
Talking of services, we do, above all, try to make sure reception conditions are as good as possible. We had our short wave expert, Olda Cip in Mailbox two weeks ago, to answer questions about reception conditions, but it seems that he did not satisfy at least one of our listeners, Swopan Chakroborty of Kalkota, India
"Your short wave expert and Chairman of HFCC said that Radio Prague's English transmission at 1300 UTC on 21745 kHz is not being disturbed by Deutsche Welle's Hausa programme directed towards Africa. I am not one with him. I regularly try to log RP on this channel. But here also Deutsche Welle is very strong on the same channel at the same time. Nothing is audible from Radio Prague. We miss Radio Prague on the shortwave very much."
Well, I'm sorry to hear that, but as we keep repeating, do try to find a different frequency on which to listen to our programs. Radio Prague's schedule gives a number of wavelengths you can experiment with. Yos Suwarto in Semarang, Indonesia is one of many listeners, who do just that:
"Reception of your programs isn't always good, but the transmission at 2000 hours UTC on 11600 Khz is very good."
And as for the 21745 KHz transmission, Olda Cip did say Radio Prague was negotiating about making changes there.
But even there reception can't be all that bad, because Swopan Chakroborty does send reception reports quite frequently, so he must hear our programs. In fact, in his last letter he writes that he'd like his question answered in Mailbox, so he must be able to hear it.
And the question?
It's about football and the fact that the Czech Republic is not represented in the World Cup in Japan and Korea.
"As I know soccer is very popular in the Czech republic. At present the greatest show on earth, the World Cup is being held. I wonder how Czechs feel about it. Are they interested in this event? Please let me know via Sunday's Mailbox programme."
I'll ask Ian Willoughby, who deals with sports in our programs to answer that question. Ian?
Yes, Olga, I'd say there is quite a bit of interest in the World Cup here, but like anywhere else in Europe, the games are in the morning or at lunch time, so people aren't watching the games in bars so much. And that means there is a bit less excitement and there is not as much of the usual World Cup atmosphere. The Czechs, of course, aren't in the World Cup this year and they haven't been to a finals since 1990. Then, as Czechoslovakia they were knocked out in the quarter finals by West Germany, who went on to win the competition. The Czechs have never won the World Cup. They played in the finals twice, they scored first both times and they lost both times. In 1934 Czechoslovakia were beaten by Italy and then in 1962 they lost to Brazil.
And tens of thousands of Czechs showed up to welcome them back home.
Well, we may not be represented in the World Championship this time, but our under 21 football team won the European Championship - for the first time ever - not so long ago, and a number of listeners have written to congratulate, including Will Steer who writes, as he says, "on behalf of the UK":
"Congratulations to the team from the UK for winning the championship; and for beating the French! Well done."
Thanks, Will, if not on behalf of the Czech Republic, certainly on behalf of all of us here, at Radio Prague.
And I'll just add that Ian did report on the under 21 championship in our programs and in case you missed those reports, you can find them on Radio Prague's web-site - www.radio.cz/english.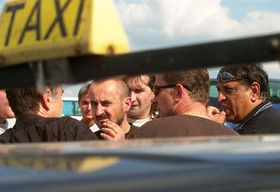 Prague taxi driver, Photo: CTK Another topic we have been dealing with and listeners can find on our web-site is the problem of the Czech capital's taxi service. Sue Kempf is one of many who complain about it.
"Where can I read more about the regulation of taxis? That part of visiting Prague is always a nightmare no matter how careful one tries to be. It would be nice if that weren't the case."
It certainly would. As to where you can read more about the issue, Dita, you commented on it in our program on May 28th, and the text can be found on Radio Prague's web-site.
It's not the only time we dealt with the problem, because at long last Prague's City Hall has launched a systematic campaign to do away with over-charging by some of Prague's taxi drivers. They are sending out inspectors who pose as foreign visitors to Prague and check the rates they are charged with the rates that should be charged. And in some cases the difference is enormous, like one driver who charged 600 crowns instead of the 120 he was entitled to. But, we really do deal with the problem in our programs, so more information there.
Come to think of it, nobody has mentioned over-charging by taxi drivers in their entries to Radio Prague's competition, in which listeners answer the question What comes to my mind when I hear the word Prague.
But for all we know, somebody still may write about it - listeners do have one more week to send their entries and try to win the main prize - a one week visit to Prague, or one of the numerous runner-up prizes.
One more week before the deadline to our competition. So, anybody who still wants to try, has high time to send his or her entry.
The address, if you send a letter, is Radio Prague, 120 99, Prague 2, Czech Republic, or if you prefer e-mail: english@radio.cz.
And, as always, this is Olga Szantova and Dita Asiedu looking forward to hearing from you again.