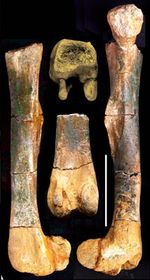 part of a dinosaur bone Imagine taking you children out on a Sunday walk and coming across a dinosaur bone 95 million years old. Improbable -but amazingly true enough. It is the story of the week in the Czech Republic and pictures of dinosaurs have appeared all over the place in recent days. The hero of the story is Mical Moucka, a doctor employed at the Kutna Hora hospital and an amateur palaeontologist. On a Sunday walk with his two sons he came across a find that took palaeontology experts' breath away - part of a dinosaur leg bone that is approximately 95 million years old. "We'd given up hope of ever finding something like that here in central Europe," one of the experts said, admitting that he couldn't wait to start excavation work in the vicinity. The bone is believed to have belonged to Inguanodontide -an herbivore that was between 2.5 and 3 metres tall, five metres long and about twenty years old when it died. However the probability that experts will find any more bits of bone is small - this particular bone has shark tooth markings, and the dino most probably lived and died thousands of kilometres away. The assumption is that bone was likely carried here by water. However that has done nothing to lessen experts' enthusiasm. They are keeping the location of the site secret in order to prevent it turning into a huge diggers' jamboree. The Czech Republic finally has its dinosaur - news anchors told the nation this week - it may be small -but it's ours! Palaeontologists will spend several months studying the bone and a model of it is soon to be exhibited at the National Museum. In the meantime doctor Michal Moucka is keeping the precious bone in his possession. Quizzed by reporters about where exactly he was keeping it Moucka quipped "Well, it won't be in the closet".
You want to attend a business dinner, a party or simply enjoy an evening out -but have no one to go out with? There are now various escort services in Prague which provide well educated, attractive and multi-lingual escorts of either sex for a night out on the town. For a steep price, of course. You can buy sex, or simply good company. But what if you simply want a husband for an hour or two? The Czech tabloid Blesk has the ideal solution for women who don't want to be burdened by a husband on a long term basis but just hate to be saddled with all the 'do it yourself" household chores that most husbands do in this country - like changing a burnt out fuse, fixing a dripping tap or putting up a painting on the wall. According to Blesk Mr. Lubomir Vocek - a happily married man- has decided to go public - and offer his services as a temporary husband. He'll come in for an hour at the sensible rate of 220 crowns and do all the "hubby work" around the house -minus sexual services. It is not mentioned whether you can yell abuse at him while he works. In any case the paper claims he's doing good business. As for his wife, she doesn't mind at all and seems happy enough to have him out of the house for a few hours. Well, you never know what line of business will make you rich...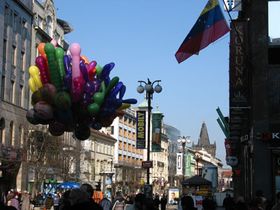 Na Prikope Street Na Prikope street in the very centre of Prague now merits a place among the most prestigious addresses in the business world. On a list of the most expensive streets in the world compiled by the Healey and Baker agency Na Prikope street is now featured with the likes of Fifth Avenue, Champs Elysees, Causeway Bay or Oxford Street. Shopping in the centre of Prague is now like shopping on any of the world's luxury avenues - and that goes for prices as well. The price of rent in this part of town is astronomical -54 thousand crowns per square metre and the chance to reside there is something firms allegedly pay thousands of euros for in behind the scenes deals. The new glamour of Na Prikope Street has its downside : tough competition has pushed almost all Czech firms out of this part of town - and few Czechs can now afford to eat in its luxury restaurants and coffee houses. A sandwich comes at 250 crowns, a hamburger at 290. This beats even Wenceslas Square or the Old Town Square, where the rent and prices are approximately ten percent lower. But according to experts - Na Prikope does have competition on local scale. Pariska Street -off the Old Town Square - is a serious rival and may soon beat Na Prikope on the list of exclusive addresses.
Do you feel that the centre of Prague is becoming smothered in advertisements that don't always go well with the historic character of the city? Well, you are not alone. And the fact is that many of them are placed there illegally. The Prague City Hall is now waging a war on what it calls "ugly and disruptive objects" in the Lesser Town -historically the oldest part of the Czech capital - from ads draped across entire buildings to stalls and ad holders which have no place being there. This is a protected area and we can't have our historic legacy disappearing under piles of rubbish, the mayor said at a recent press conference in Prague. It may take a couple of months but we'll clean it up, he promised.
Walk through any Czech country town in the evening and even if you have no idea where you are you will easily find your way to the local pub. You'll know it by the sound of brass band music coming through the open windows and on a Sunday evening there is likely to be a dance as well. Country folk in their 50 and 60s prefer the music of their youth - and it is they who are keeping brass band music alive in this country. Even so brass band music is on its way out and sponsors are hard to find. What is keeping it alive are balls and dances in the country which involve live bands. But playing in a brass band alone does not provide an income once could live on -so brass band musicians hold down regular jobs, playing in the evenings and on weekends. Brass band music in the Czech lands was in its hey day in the mid 19thcentury and entered into a slow decline after the First World War, with the onset of jazz and country and western music. Today people in their 60s, 70s and 80s still love to dance to their favourite polkas but few would be willing to invest in cassettes or CDs. It is teenagers and people in their twenty's who spend the most on music -and none of them are willing to buy brass band. For them oompah-pah music is stuffy, outdated and a relic of the communist years when brass band music was a staple TV show for the masses. Moreover brass band music in the Czech lands tends to be conservative - unlike brass bands in the Balkans for instance. Music experts say that unless it opens up to foreign influences and becomes trendy brass band music will die out with its fans in ten or twenty years time. And few people will even remember the famous polka that was composed by a Czech and sung across Europe - as Skoda lasky, Rosamunde or Roll out the barrels.