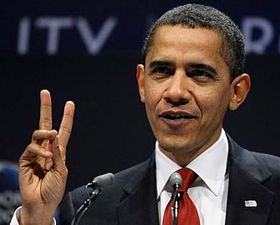 Barack Obama, photo: CTK The Czech Republic is in the grip of Obama fever with the media reporting on every conceivable aspect of the US president's visit – where he will make an appearance, what restaurant he'll be eating at, what gifts are being prepared for him and how the unprecedented security measures will affect the movement of Prague citizens around town. The daily Lidové noviny even published an article according to which President Obama has Czech ancestors! A certain Czech genealogist said that when he heard that Mr. Obama's mother was descended from the British royal family line – from King Edward III and King Edward I he realized that there must be a Czech connection as well. The link reportedly leads from Eduard I to the Czech King Vratislav II and further back to Prince Bořivoj, the first historically confirmed Bohemian prince of the House of Přemyslids. The paper has devoted half a page to this theory providing a family tree and a photo of the president in a relaxed posture with his hands in his pockets which the paper claims is the typical posture of "a Czech Joe" –no offense, Mr. President. Well, there you have it – when someone's famous enough you can always count on the media to find a distant relation – it happened in the case of Angelina Jolie, Salma Hayek and even astronaut Eugene Cernan. So, welcome home Mr. Obama!
A ten-year-old boy stunned police offers by driving his parents Škoda car for over 120 kilmetres without causing an accident. The boy decided he wanted to visit his grandfather, borrowed his parent's car without their knowledge and set off on the long journey, taking the route he was familiar with from drives down with his parents. The police followed the car after noticing its rather erratic progress and signalled for it to stop. The driver complied and instead a finding a slightly intoxicated driver the officers found a ten year old. He was driven back home to his parents who were warned to watch his whereabouts and hide their car keys.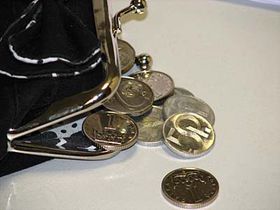 The 50 heller aluminium coins which were taken out of circulation last year in September – seem to have disappeared without a trace. Although there were an estimated 400 million of them in circulation at the time, only 55 million of them have so far been returned to the Czech National Bank. Czechs clearly don't think that the feather-light fifty hellers are worth a trip to the bank. The fifty heller coin was around for 116 years but its value plummeted as prices went up and in the last decade or so people would often not bother to pick up this small change when it was returned to them in shops or bend down to retrieve it if they happened to drop it. Most of the coins are probably lying around somewhere forgotten, but some of them may still be in a small circulation of their own – apparently many poker players still like to use them. At a time of financial crisis it is comforting to know that you are not staking the family's fortune in a game of cards.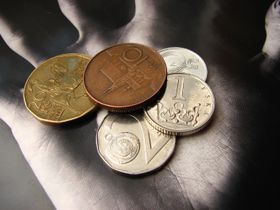 By the way, should you happen to be in the Czech Republic and using Czech crowns don't be misled by the fact that many people call the ten crown coin "a fiver" despite the fact that there is a five crown coin in circulation. This somewhat confusing tradition dates back to the end of the 19th and beginning of the 20th century when crowns replaced the so called guldens–or gold coins. Back then ten crowns were worth 5 guldens – which got them the name fiver – and it has stuck to this day. So remember in the Czech Republic a fiver is ten crowns, not five.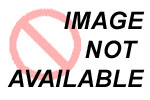 Mělník The town of Mělník is introducing a new tradition – a bugle call from the town hall at 6pm every night, to give Mělník what the mayor calls "more local flavour". The short piece was specially composed for the Mělník town hall by the head of the Prague Buglers' Association, who also composed a bugle call for Prague 1. The call is to be heard at least once a day – and in the tourist season three times an evening. "We think tourists will appreciate it, but we don't want to play it too often because it might aggravate the locals," the town's spokeswoman said. This is good thinking. Some towns tried to bring back night criers during the summer, but in the present day people just don't care to be woken up at 3am to be told what time it is.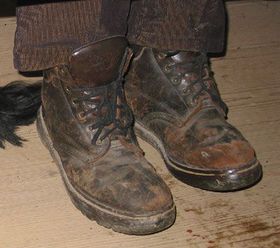 Shoes seem to be acquiring a very special significance in politics around the world. Nikita Khrushchev's shoe-banging incident in the United Nations has stayed in people's minds since 1960, and the shoes thrown at president Bush during a press conference in Iraq last year also made quite a splash. Now the outgoing Czech culture minister, Václav Jehlička also has a shoe story to tell. After he slashed the grants promised to a number of theatres, dance ensembles and literary magazines – directly threatening their livelihood – the people in question turned up at the Forum for a Creative Europe hosted in Prague by the culture minister within the framework of the Czech Republic's EU presidency. The demonstrators each came armed with a shoe and foreign visitors stared in amazement as they all held their shoes up in the air –in mute protest- every time the minister attempted to address them. In Czech this does not need explanation – if you want to say that someone has botched something in Czech you say "udělal botu" literally "he made a shoe" – hence the collection of shoes being held up for the minister to see. This may leave you wondering if the minister was forced to duck. Absolutely not, despite the public slap in the face demonstrators did not resort to violence. Artists are sensitive people and they had brought along their own effigy of the minister which they pelted with shoes in his place. Even so, it must have hurt Mr. Jehlička just a little.