Did you know that the man who invented sugar cubes was Czech? Jukub Krystof Rad was the director of a sugar refinery in Dacice, west Bohemia and he hit upon the idea of selling sugar in cubes in 1841. Possibly he would not have thought of it had his wife not cut her hand badly while trying to cut into a huge lump of sugar. Mr. Rad racked his brains and several months later he presented his wife with a gift-wrapped package. Inside were 350 red and white sugar cubes. The production line for sugar cubes was finished in 1843 and sugar cubes from Decin became an immediate success. This summer the town of Decin unveiled a plaque to its honorary citizen and the town also boasts a big sugar cube made of granite in memory of Jakub Krystof Rad. There is no doubt at all that Mr. Rad was a busy man - according to the towns register he had 16 children with his wife Julianna!
A series of stamps with President Vaclav Klaus are to appear on the market at the end of July. The stamp will be blue, with red and purple lettering and will cost 6 crowns and 40 hallers, ie. the same price as that bearing the portrait of his predecessor Vaclav Havel. "Klaus sells at the same price as Havel" read the headlines in the tabloid press, poking fun of the age old rivalry between the two men. The graphic artists involved say that Mr. Klaus vetoed the first proposal, but approved the second. This is reportedly nothing unusual - one former statesman had graphic artists redo the stamp five times before he was happy with it.
Police officers have to deal with all manner of things when they patrol the streets of Prague. Recently an officer assigned to the old Town Square saw an interested crowd gather around the statue of Jan Hus, with tourists jostling to take photographs. Moving closer the officer saw a stark naked man running around the statue, telling one and all that he was an angel from heaven. After a brief chase officer Nemec managed to contain the angel and much to the tourists' disappointment marched him off to a nearby police car. "I though it was some kind of stunt or a bet or something, the officer said later, but the man was - well, not quite sane. There was no sign of any clothes and we were unable to get him to cover up. We tried to ascertain his identity but all he would say was that he was an angel from heaven. Angel or not, the officer says the man gave him quite a chase!
The town of Miroslav near Znojmo annually organizes Apricot Harvest Festivities. The locals vie over whose apricot liquor tastes better and compete in who can consume more food in twenty minutes. Eating apricots alone would be too simple so the organizers decided that contestants would compete in eating apricot dumplings - smothered in butter and sugar - a very popular dish in this country. A dozen competitors sat down to a table with a bowl of 600 apricot steaming dumplings in front of them -and they were off. Ludvik Vlcek, was declared the winner, having consumed a record 57 dumplings in 20 minutes.
Asked how long he'd practiced he said not at all -he was just standing in for a friend who couldn't turn up in time for the race. Mr. Vlcek is not at all easy to feed on any day of the week. He told journalists that the size of the portions he eats depends on how much work he has to do. On a leisurely Sunday, he may consume a huge plate of beef in cream sauce with thirty dumplings as a side dish. A normal portion by the way is three to four dumplings.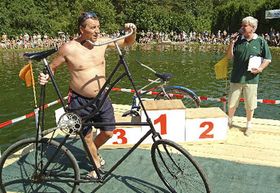 Footbridge show in Ricany, photo: CTK Czechs love setting new records, organizing competitions and just having fun and games. The 13th annual footbridge show in Ricany near Brno took place last Sunday and 6,000 spectators turned up for the event. The footbridge -which is at the centre of all the fun is 50 metres long and just 60 centimetres wide and contestants take turns at trying to cross it riding a bike as slowly as possible. The record in slow cycling across it was one minute one second -a ten second improvement on last years' record. Sixty people took a dip but with temperatures in the 30s nobody minded. Many improved the spectacle by dressing up and decorating their bikes.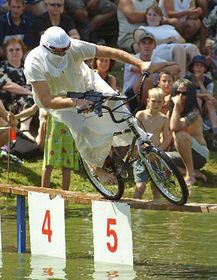 Footbridge show in Ricany, photo: CTK Another category is the wheelbarrow race for pairs -one pushing the wheelbarrow across the footbridge and one sitting in it. The idea is to cross the footbridge as fast as possible while stopping to change positions half way across. The record there was 22 seconds -should you wish to check out your own skills. Another popular contest is a pillow fight in the middle - and there are many other entertainments -including a price for the biggest beer belly at the show. Contestants spend a whole year preparing for that one! And the record breaker this year was Milan Cisar with a beer belly of 44, 5 cm.
Czech towns and cities have been getting a facelift these past ten years. Ever since Czech shops were flooded with a vast variety of goods people have been re-furnishing their homes and improving the outward appearance of their houses and country cottages. The regional authorities do their best to support this trend. There's an annual prize given to the best looking Czech village and in Bohumin, Karvine the town hall has just announced a contest for the best looking window and balcony. The Czech love of contests has not failed and the place is reported to have bloomed overnight.
There are all forms of enterprise in the Czech Republic today. A small town in Moravia has just filled a gap on the market - and the latest service on offer is walking a goat. You are amazed anyone would be interested? Apparently the goat rental is doing good business. Kids no longer find walking the dog very exciting - but they are happy to pay the few odd crowns for an hour of goat companionship.
Czech castles and chateaux have different strategies in attracting as many tourists as possible. Many offer night tours peppered with ghosts who have -supposedly -haunted the place for centuries. Others have period events - with falconers, jesters, dancing and fencing. The Nesovice Chateau has just come up with something brand new: the guided tour of the chateau is not spoken but sung. These nightly musical tours at Nesovice are to last until August 23rd.
For some reason Czech men are very fond of enacting historical battles. The thirty years war appears to be particularly popular, and so last weekend the "Swedish army" conquered Sovinec castle once again, 360 years after it really happened. Historical groups and associations from across Moravia took part in the reconstruction process and thousands of visitors looked on. There were no casualties. The Swedes conquered Sovinec in 1643 after a 17 day struggle when its defenders finally gave up. They were to remain there for seven years. This time they left, well satisfied, at the end of the weekend.