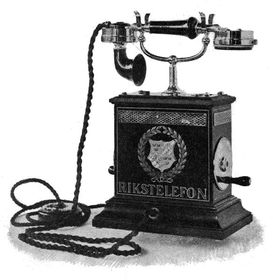 Apparently a company called Dr. Houdek a Hervert had begun advertising various designs of telephone in the city as early as 1877, just one year after the device was patented by Alexander Graham Bell. Nevertheless it took another four years for the first resident of the city to purchase one. He was a sugar manufacturer by the name of Bedřich Frey.
Actually, that should be to purchase two: the industrialist had one phone installed at his home and another at his plant around a kilometre away in Vysočana, a district which at that time had not yet been incorporated into Prague.
(The first phone in Bohemia had been acquired by a mining company in the Teplice district owned by an industrialist from Saxony named Richard Hartmann. It ran a two-kilometre line to a nearby train station in April 1881, a month before Frey had his line laid).
The following year, 1882, saw the establishment of the Pražské podnikatelství pro telefon, the Prague Telephone Company. It was headed by Jan Palacký, a botanist who also sat in the Bohemian State Assembly. He was the son of none other than historian and politician František Palacký, a driving force in the Czech National Revival who earned the nickname "father of the nation".
The new phone company signed up subscribers to its nascent network, apparently starting out with only a dozen or so. It set up a manual exchange in the 16th century Richtrův dům, or Richter House, on the city's Malé náměstí, just a stone's throw from the Old Town Hall.
Palacký's company published the first Prague telephone directory in 1883. There were 96 names in it. The following year the company was bought out by Britain's Telephone Construction and Maintenance Co. Ltd., though it didn't hold the concession for long – in the 1890s all telephone services were taken over by the postal authority.
Other significant moments in the history of telephony in Prague include the introduction of phone booths (the first appeared on Old Town Square in 1911) and the creation of an automatic exchange on Jindřišská St. in the early 1950s.
Incidentally, the first Czechs to use the phone employed the words "hej, hej!" as the standard greeting. The inspiration for that apparently came from the Slavic anthem "Hej, Slované". It was only later that the U.S.-influenced "haló, haló!" caught on.