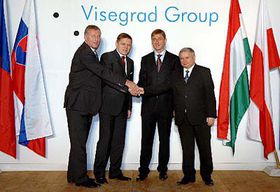 Prime Ministers of the Visegrad 4 Group countries, Czech Republic's Mirek Topolanek, left, Slovakia's Robert Fico, second left, Hungary's Ferenc Gyurcsany, second right and Poland's Jaroslaw Kaczynski, right, photo: CTK Agi Varga of Radio Budapest spoke to Zsolt Pataki, head of European foreign and security policy at the Hungarian Foreign Ministry and asked him whether the Visegrad group had lived up to expectations:
"Certainly, and it was a view that was generally shared by all the four prime ministers today. Of course, the aim of the cooperation was different fifteen years ago than it is now. It was initiated because all three, and now four, countries [Czechoslovakia split into two countries in 1993] wanted to join the European Union and NATO. The promotion of their integration into these structures was the primary aim of the cooperation. By 2004, all four countries had become members of both NATO and EU and then the cooperation got a new meaning, which is to represent the common interests of the four countries in the two organisations. The four countries have been doing that quite successfully on major issues."
We see that the cooperation did have a past but does it have a future?
"Certainly, as I said, in the EU but also in NATO there is a future for regional organisations. No country can be successful in promoting its national interests if it is alone. So, countries are bound to form coalitions and in the four countries, because of their geographic location and because of their history and common cultural heritage, they have many common interests and common problems. They can represent their common interest in these organisations more successfully if they worked together than if they worked separately."
What exactly was on the agenda of today's meeting?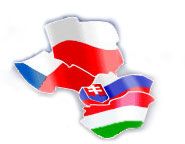 "The prime ministers briefly evaluated the history of the V4 cooperation and they looked into the future and they basically shared the evaluation that I described to you. So, it has a future. Just in the past year, during the Hungarian presidency of the V4, the four countries had been successful in working together on the financial perspectives of the European Union. They have also been working together on the four countries joining the [border-free] Schengen zone, which is a very sensitive issue. They have been promoting foreign policy issues in the EU, in particular enlargement and closer cooperation of the European Union with regions that are close to the four countries - the Balkans and the eastern periphery of the European Union. These are issues that remain on the agenda and require further work of the four countries and the prime ministers confirmed their commitment to continue with this cooperation."