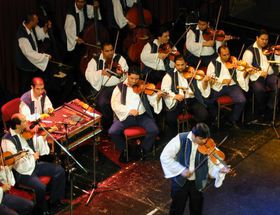 The Rajko Ensemble, photo: Jana Sustova "At the beginning, in 1952, there were Gypsies only in pubs. They were not performing in theatres. It was Gyula Farkas, the first Gypsy teacher, who founded the orchestra and found the Gypsy children from the deepest countryside - so from villages in Hungary and even outside the border, from Slovakia, Romania and Ukraine. He went and looked for the most talented children, and brought them to the orchestra.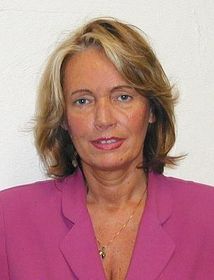 Beatrix Berendy, photo: Jana Sustova "At the beginning there were twenty of thirty musicians only, but he always wanted to work with a bigger orchestra, so sometimes it was even sixty or seventy children in the group, and they slowly grew up - so not only children but they became adults.
"Now we have thirty-two professional musicians, who are paid, who have their work based in the orchestra, and if we need more musicians, we can add the musicians from the school, or we can call those who used to study in the Rajko school and ensemble, and we ask them to play together with us. In this way we can get a hundred musicians together if we want.
"Children can come to the school when they are eight years old, and when they finish the school at about eighteen or nineteen years old, they are already professional, and they can play in our Rajko professional Gypsy orchestra, or they can play in any other orchestras, or they can form their own orchestra and go to play wherever they want."