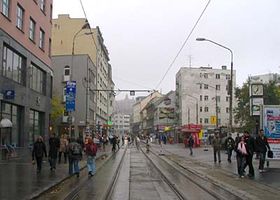 Bratislava Analyst Martin Valentovic from the Center for Economic and Social Analysis, known as Mesa 10:
"In Bratislava the prices for services are several times higher than in othe, not developed regions. The Bratislava region in GDP per capita is doing twice as well as other regions. In the Kosice region the unemployment rate is three times higher than in the Bratislava region. The average salary in Bratislava is two times higher than in the Presov region."
... these are just a few examples of regional differences in Slovakia that Martin gives. Bratislava, Kosice and Banska Bystrica are the three biggest towns and also the most developed ones. In terms of investment they are the most attractive, says Robert Kicina - executive director of Business Alliance of Slovakia:
"Regions with highways and good infrastructure are more developed than those without."
As Kicina says four very important conditions for attracting new investors are economic development, infrastructure, human resources and public administration. Tackling the issue of investment and getting it to different regions are many state strategies. To start a business outside the Bratislava region businessmen are encouraged by more subsidies.
"When he builds his investment in a region with higher unemployment, for example the Orava region or in Eastern Slovakia he might get much more help from structural funds, or even from the government. But when he builds investment in Bratislava, he might not get any help."
... adds Valentovic, analyst from the economic think tank MESA 10. Another way that regional differences and the development of regions have been attended to was through financial aid from EU structural funds. In October 2005 more than 7,000 applications for financial subsidies from structural funds were filed.
Slovakia is divided into eight regions. The least developed or the worst doing regions are Kosice and Presov in the East. Eastern Slovakia because of its high unemployment and relatively low wages was considered very attractive for monitoring the situation Robert Kicina from the Business Alliance of Slovakia came to this conclusion.
"We expected that human force would be more attractive for investors than it really is. I have to say that instead of unemployment and lower wages investors are looking also at qualifications of these people. These qualifications, especially in Eastern Slovakia are relatively low. Most qualified people are in economic centers of Slovakia, which are Bratislava, Banska Bystrica and Kosice. People from other regions tend to move and work there too, so maybe I can say there is brain drain in these regions."
Currently a big threat for investing in Eastern Slovakia is the fact that it doesn't hold enough qualified workers. Kicina says this could be solved by more specific education, adjusted to the needs of investors, in the regions. However even if we overcome this obstacle another threat is opening up in the future.
"The biggest threat for doing business or for investing in Slovakia are increasing wages. We expect that maybe in 10 - 15 years wages will rise and investors will start looking for cheaper regions that surely will be across borders of Slovakia, especially in Eastern Europe or maybe further in Asia."
Some say 5 - 10 years, other 10-20 is the time needed for the less developed regions to catch up with the ones ahead of them. However, all agree on the fact that the situation is currently changing and the differences will eventually diminish.