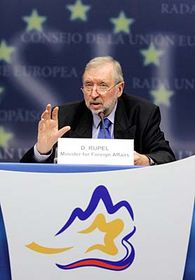 Slovenian Foreign Minister Dimitrij Rupel, photo: CTK It was a proud and historic moment for Slovenia. On January 1, it became the first of the new members to assume presidency of the European Union. And if the Reform Treaty is ratified, it will also be the last – the treaty will do away with the rotating presidency system.
Government officials are confident and polls indicate that Slovenes are as well: Two out of three Slovenes are optimistic about the presidency, according to the newspaper Dnevnik. Many see the presidency as yet another proud first: Slovenia was the first new member to adopt the euro, the first ex-Yugoslav country to join the EU, and its healthy economy regularly puts it at the top of charts for economic indicators.
But beneath the wave of optimism, some rumblings can be heard.
Some residents in the capital are worried that Ljubljana, with a population of just a quarter million people, will feel the crunch of the many visiting delegations and officials set to descend on the city. But the leading Slovenian newspaper Delo recently warned that Slovenia might have to worry about more than just traffic jams. The paper said the country was inheriting serious problems: notably the potentially explosive Kosovo issue and the ongoing difficulties with regard to Croatia's declaration of an ecological zone in the Adriatic.
In the meantime, the international rating firm Dun & Bradstreet warned that the EU presidency could turn out to be a dangerous distraction. In its January report, D&B noted Slovenia's rising inflation and urged officials not to become distracted by their EU responsibilities to the detriment of the country.
The agency did not change Slovenia's rating: the country still remains at the top of Eastern Europe.
Either way, the country will definitely have a full plate for the next six months. At the forefront is Kosovo, but Slovenia also has a long to-do list including: overseeing the ratification of the Lisbon Treaty, potentially thorny relations with the Western Balkans, pushing the Lisbon strategy, energy-climate discussions, and intercultural dialogue. The latter is part of the European Year of Intercultural Dialogue, which wants to promote coexistence between different cultures.
Numerous events and conferences are scheduled in the country and abroad, with all the logistical challenges these entail. Slovenian officials are confident and hope that in the next six months, Europe will see why Slovenia has so often managed to rise to the top.