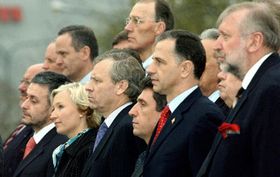 NATO welcoming ceremony in Washington, photo: CTK Slovene politicians argue that NATO membership is also crucial for security and stability in Southeast Europe. Slovene police and armed forces will continue to participate actively in NATO-led operations in support of peace in the region.
Prime Minister Anton Rop stated this also at the ceremony in Washington:
"I would like to say that Slovenia supports Croatia, Macedonia and Albania on their way to NATO. Today we can say that we are becoming safer and NATO is becoming stronger."
On NATO's new role president Bush summarized:
"The NATO alliance now flies 7 new flags and reaches from the Bay of Biscay to the Black Sea, and Europe, once the source of global conflict, is now a force for stability and peace. Our great transatlantic alliance has met and overcome great dangers in the past and our work in NATO is not done. In the past many assumed that NATO represented a pledge that America would come to the aid of Europe. Today, by our words and by our actions, we know that NATO means much more. It is a solemn commitment that America and Europe are joined together to advance the course of freedom and peace."
But not all citizens of Slovenia believe that NATO membership is the only or the right way to freedom and peace in the world. Many fear the costs for NATO membership are too high and unnecessary, as Slovenia today is not the target of threat from outside. People fear that this could change with Slovenia being a NATO member now.