In Ljubljana, delegates from all 25 EU members, as well as from candidates Bulgaria and Romania, arrived to open the first conference on the subject. Addressing the delegates, Slovenia's transportation minister emphasized the need for careful and reasoned decisions about how these sea motorways should be laid out. Sea ports should be chosen carefully, there should be suitable links between ports and land, and administrative procedures should be as simple as possible. Slovenia's Prime Minister, Janez Jansa, stressed that logistics in cooperation was currently the single biggest problem:
"The biggest problem we have encountered so far is the lack of connections from the sea to railway networks."
Current EU president Austria was represented at the conference by State Secretary at the Austrian Transportation Ministry Helmut Kucka, who stressed the European applicability of the problem:
"Although Austria is a classical example of a land-locked country, the European dimension of short-distance sea transportation is clear to us. In our opinion, it represents an economical, ecological and critical supplement to land transportation. We should not forget that short-distance sea transportation currently almost moves the same amount of tons per kilometre as land transportation."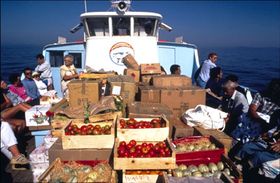 Photo: European Commission Increased reliance on sea transportation is also seen by many as a necessary measure for Europe to fulfil its obligations in the Kyoto Protocol. Slovenia, in many respects, is a microcosm of Europe's current transportation concerns. The country is rapidly working towards connecting its primary port of Koper with rail and road links. And like many EU newcomers, it has also been busy constructing new motorways that traverse the country and fit into existing pan-European corridors. As trade and transport between EU members grow, members are counting on sea transportation to help take the burden off of Europe's busy streets.