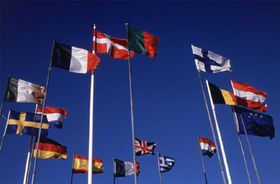 Photo: European Kommission "The country believes that this proposal (on Voting Rights) is going in the direction that three big countries can block the decision in the council"
So Slovenia would find itself on the side of Austria that grouping of smaller countries? Who feel themselves disadvantaged by the position of Germany, France and others?
"I must say that Slovenia is in general quite satisfied with the constitution, they think that its a good balanced proposal. But they have some concerns. For example Slovenia, just like other small countries and medium sized countries, wants to achieve one commissioner per state with a full voting right of course. Which means that they might accept for now a decision that the commission will be made up of 25 commissioners with full voting rights for example, by 2014. They would be glad with that decision."
To what extent is it being followed in detail in Slovenia? Are the public interested or do people see a divided Europe that cannot come to a decision or do they see this as part of a normal political process?
"I think that the Slovenian public is quite interested in the whole event, in the whole enlarging of the European Union. The country was quite good example, during the referendum when a big majority of people supported Slovenia joining the European Union. So I think they are quite interested."
Is Slovenia supporting Europe's moves towards a common defence policy, these first stages?
"I think that Slovenia is supporting this but only so long as European systems won't duplicate the structures of the NATO organisation - because that would lead to additional costs. Basically that's the main concern, even of other countries. So I think the main importance for Slovenia is that all these structures, would not be duplicate NATO structures as the country is joining both organisations next year."