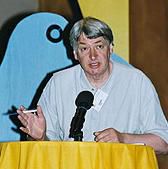 David Lowen, photo: www.circom-regional.de This year's Prix Circom competition, hosted in Maribor, Slovenia, saw more than 150 entries from 23 countries. The event tries to honor outstanding regional programming in five categories, including documentaries, news and sports. It has been going on since 1990.
This year, Polish stations absolutely dominated the event. Chief judge David Lowen:
"This year, in the five categories we've got, you've almost got to be Polish to win it. The Poles have always had a tremendous reputation for filmmaking and increasingly for TV program making. And this year, they have won the documentary category, the news category, the TV-across-Europe category, and they won the sports category. The only category they didn't win was the web site - which went to Sweden."
The top prize went to "My Baby is an Angel", produced by TV Poznan in Poland. The 25-minute documentary was directed by Monika Gorska and had a powerful effect on the judging panel:
"The winner in the Grand Prix, the documentary from Poznan, was about women who lose babies, either in child birth or very soon thereafter, are devastated, mostly devastated. And then they have to try the process of putting their lives back together again. So the camera follows several of them, and sees how they cope with it, what support they need. It follows their deep emotion as they go through the process, and gradually come back to life. Now I wasn't in the room when the judges viewed it for the final time, but I'm told that when the program finished, there were six judges there. There was absolute silence, nobody wanted to say anything. And then the chairman of that judging panel said: Well, is there anything we can say?"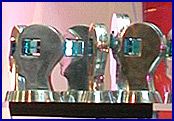 Prix Circom, photo: www.circom-regional.de With Poland dominating virtually all entries, there was no room for Slovenia. The country submitted six shows from regional programs in Maribor and Koper, but didn't manage to crack into the top spots. David Lowen explains:
"There were a couple of Slovenian entries. They didn't rise to the very top, but let me say this: If one is comparing the quality of programs from a whole range of countries, including Slovenia, now and 10 years - there is no doubt that the quality of programs has risen enormously."
Mr. Lowen, a former director of Euronews, anticipates that next year's winners will be available to see online. Unfortunately, there's no way for people to view any of this year's winners unless they watch the regional programs in question. However, the rapidly increasing access to internet broadband should change that in the near future.