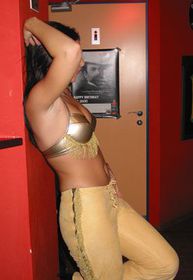 Before 1989 pornographic materials were smuggled into the country from abroad. Now it is widely available and perfectly legal, not to mention that everything is on the internet. But Slovaks don't seem to be showing their interest publicly. As confirmed by Silvio Veselsky, who is a film producer:
"This industry is not doing as well as in neighboring countries. I think it is because Slovaks are more uptight and shy. I would even say that they are more uptight than they were five or even ten years ago. Young people aged 18 to 20 or 25 are a big group; young men who show up repeatedly to check out new things. Then there is a category aged 30 to 50. And then there are, for which I am very happy, many couples aged 40 to 50. So if I were to consider the percentage of women, I would say that 30 to 40 percent."
The same concern about Slovaks is voiced by people who are "in the middle of the action"; such as porn actress Julie Silver.
"I think that many Slovaks don't want to admit that they like it and that they have something in common with it, even though they would like to admit it, they are humble."
Her Czech colleague Robert Rosenberg compares Slovaks with Czechs:
"I don't know exactly how people feel but in the Czech Republic more people like to see things and be friendly with the stars. Here, the people don't really know who a porn star is or who is active in the business."
In Slovakia there is one big category of potential customers that is still hard to get. Silvio Veselsky specifies it:
"It is not a matter of money anymore. I am talking about successful businesswomen who work in banks or let's say insurance companies. They work hard and they earn pretty good money. In other countries these women realize that they can afford to spend some money on things that would improve their sex life. But here these ladies are afraid that somebody they know would see them."
Sure enough, being seen is the biggest concern of Slovaks. Sex shops in big Slovak cities, like in Bratislava, are not pushed off into some red light districts. They are located on busy streets and intersections, or just a few steps away from supermarkets.
"In Slovakia it is starting to be a bit better and people are beginning to be more open. But, you know, not many people want to show it is there because here it's like a small village."
...says porn star Robert Rosenberg. As for anonymity, internet sales of these products in Slovakia can barely cover the costs related to the website maintenance which is something that people who are in this business really didn't expect. Despite the argument that you can only be seen buying sex toys by a person who probably wants one too, Slovakia is too conservative for any change. Ironically, as of January 1, 2006 the age of consent will be 14 instead of 15.