On April 2, NATO headquarters in Brussels will see the Slovak flag rising to mark the country's accession to the Alliance. For Slovakia it will be a moment of triumph. At the summit in Madrid in 1997when NATO announced the first wave of enlargement comprising Poland, Hungary and the Czech Republic, Slovakia was not even mentioned among the countries which could have qualified for the second round of expansion. Six years later though it was invited to become a full member of the Alliance.
Yet, entry into NATO also poses a great many challenges for Slovakia: - for a start the country plans to launch a fully-professional army as early as 2006 but hasn't so far managed to secure the 2 percent of GDP set by NATO for the new members to invest in modernization of military forces. The Supreme Allied Commander of NATO forces in Europe, General James Jones admits that reforming the Slovak army is not an easy job.
"The management of a professional force is dramatically different from the management of a conscripted force. For example in professional forces you have a concept of volunteerism - people who want to serve the nation voluntarily, who are career-orientated. They bring families with them. And also the higher the technology, the higher the demands and skills sets and educational level that a professional force demands. We find ourselves having to deal with helping not only train that force but also retain that force. Because people have choices and if you don't take care of their families, then they don't stay with you and they go and find an appropriate job elsewhere."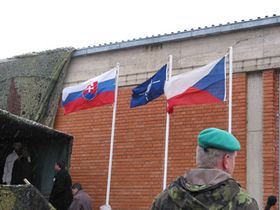 Czech-Slovak battalion at the KFOR peacekeeping mission in Kosovo A year ago 70 percent of Slovaks wanted a referendum to decide on their country's entry to NATO. More than half of them at the time would have voted against NATO membership. The polls haven't improved that much in the past year. But many analysts expect that Slovaks will follow in the footsteps of Czechs who showed little support for the Alliance in 1999 when the Czech Republic joined it. Jiri Pehe, a Prague based political analyst says the situation has since changed dramatically.
"Fighting terrorism has changed the perception of the average Czech that NATO is just some kind of umbrella that we can use in bad weather, but instead that we are co-responsible. And I think that has changed Czech politics and the way that Czech institutions work. Many Czechs realized that NATO does actually work. NATO has got its mission in Yugoslavia accomplished. It was successful and I think a lot of Czechs realised how well it works. Then the 2nd reasons is that we could see that under pressure from NATO the Czech army has been modernized, that Czech politicians have learned to act in the framework of collective decision-making. They have become more transparent."
Though many Slovaks still believe that the celebrated membership of their country is much more part of a political game than for concrete benefits, some still feel they cannot afford to be left alone in a world which is looking less and less secure.