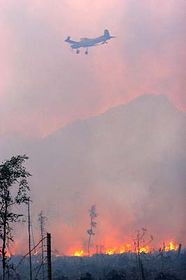 Photo: CTK Local citizens in the villages affected recall the bad night on Saturday July 30. They experienced unending clouds of smoke and a red reflection in the sky in all directions. Many of them moved to the nearby town of Poprad and some tourists were evacuated as the fire got dangerously close to homes and hotels. Fortunately the rescue teams were able to stop the fire from reaching human habitation. On Sunday afternoon, the crisis staff chief Milan Baran consoled local people:
"We have succeeded in stopping the fire from the south and east so inhabitants and their property are not in danger any more."
But the fire-fighters were not able to stop the fire spreading north- and westwards. The authorities were ready to call for international help and army assistance.
Rain on Sunday night helped the rescue operations in the High Tatras. Although it did not put the fire out completely, thanks to the rain international help was not needed. The emergency was finally called off just after midday on Wednesday August 3. According to experts this fire was the largest ever in the Slovak part of the High Tatras. Tomas Vancura is the head of the National Park Administration:.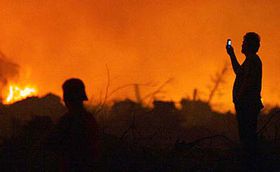 Photo: CTK "The territory devastated by the windstorm last November is very susceptible to fire. Only 50% of the damaged woodland has been cleared so far, while large territories have not been processed at all."
Representatives of the VLK Association of Forest Conservationists have asked the Agriculture Minister Zsolt Simon to take political responsibility for the fire in the High Tatras. They call on the minister to take direct responsibility for the removal of damaged woodland in isolated nature reserves. Tomas Vancura:
"The danger of fire could have been avoided by putting stress on the clearance of risky areas with a large concentration of people. Unfortunately, a careless tourist set just such an area on fire by flicking a cigarette butt close to a tourist path. Had the damaged wood been cleared from the area, the risk of fire would have been smaller."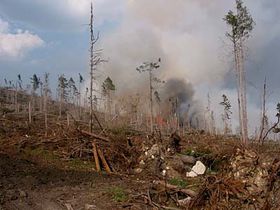 Photo: CTK Several Slovak papers have claimed that a ban on entering the region devastated by the November windstorm has been ignored. Tourism is the main means of income for local citizens. In the middle of the summer season, the fire could hardly have been worse timed. But the head of the Mountain Rescue Team Jozef Janiga remains optimistic:
"The tourist season can continue. Of course, there will be some restrictions. I hope that tourists will be disciplined enough and won't enter the banned areas."
The fire will not only have economic but also environmental consequences. The High Tatras National Park has been devastated twice in a short period of time. It will take up to ten years for the devastated forest to become green again. It will never look quite the same again. According to experts, it will take up to 100 years for it to grow back properly.