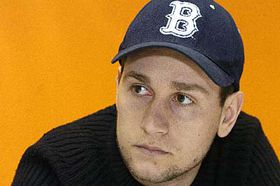 Karol Beck, photo: CTK Beck who was number 48 in the world at that moment must return the prize money, approximately 42,000 dollars earned in the Davis Cup. His two victories against Argentina are cancelled but the overall result of the match has not been changed. The 24 year old Beck rejects the verdict of the International Tennis Federation.
"I have never taken any forbidden substances and I will never use them. I have no reason to do so. I have proved that I can become number 36 in the world only through hard work. As for the Davis Cup, why should I use doping when I donate my entire prize money from Davis Cup to the centre for young tennis players managed by the Slovak Tennis association.
"I have been to many doping tests in my professional career and I have never tested positive. I was tested at US Open before the Davis Cup semifinal. Come on, I knew that there would be a test after the match against Argentina, I am not so stupid to take a substance that remains for so long in the human body."
Clenbuterol works the same way as ephedrine. However, unlike ephedrine, which is out of the body in a few hours, clenbuterol lasts for days. It increases metabolic speed and strength and endurance of muscles by allowing more efficient transportation of oxygen into cells. It is often used by people with asthma problems.Beck does not know how clenbuterol entered his body but has two possible explanations, which however were rejected by the Independent Anti-Doping Tribunal.
"The substance must have entered my body without my knowledge on September 15th when I went dancing for a couple of hours in a night club in Bratislava and somebody spiked my drink. I have some people on my list of suspects but I don't want to make any names public. A second possibility is that I mistakenly took one of my mother's Clenbuterol tablets believing that it was one of my prescribed drugs for head aches. But my personal belief is that the first case is the most probable."
Beck and his father burst into tears when journalists asked who and why would somebody spike the player's drink. Beck's father explained.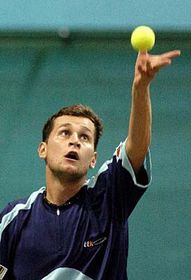 Karol Beck, photo: CTK "I went to the director of Slovakia's secret service and asked to open an investigation into this matter. He advised me to wait until the Davis Cup final between Slovakia and Croatia ended so we do not create an even tenser atmosphere in the team. Then I submitted a written complaint to the police asking to investigate the possibility of my son's drink to have been spiked. We spent four days studying the Slovak laws in order to find the correct legal procedure but the prosecutors told me from the beginning that it would be a hard case. Unfortunately, this is Slovakia. There are many people here who envy Karol for what he has achieved. They don't know how much work and sacrifices are behind his successes."
The Slovak Tennis Association's President Tibor Macko also issued an official statement expressing its belief that Beck is not guilty. Karol Beck has three weeks to appeal. He said he would do so.
"I still believe that justice will triumph. For me this decision is a shock. In case the ban period is not reduce I will use this time to train, both physically and psychologically and I will return to the world stage of professional tennis for sure."